'Destiny 2' The Farm Secrets: What you might have missed in the new social space during the beta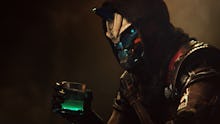 The Destiny 2 beta may have been extended, but access to the new social space was limited to about an hour on Sunday. So if you missed out on exploring the Farm, Destiny 2's answer to the original game's Tower, there were a few notable moments.
Destiny Guides on YouTube had a few minutes worth of secrets players could have discovered during their time on the Farm.
If you jumped through a window in one of the buildings on the Farm (near the Cryptarch), you could enter an empty area players have been referring to as the "secret room." It's not much more exciting than that. I mean, it's an empty room on a farm. Good for a dance-off, I suppose.
There are a few different tunnels you could have used to make your way through the space. One of the tunnels is particularly dark and the video speculates that Xur, Destiny's elusive purveyor of Strange Coins and exotic weapons, may end up there.
If you don't have an unrelenting fear of heights like me, you could have jumped on some of those wires to go from building to building. There was the opportunity to glimpse the gorgeous vista from the wires, too.
These may or may not be new vehicles for Destiny 2. It could be we'll see some replacements for the original Sparrow vehicles, but I've gotta say — these vehicles do look awfully spiffy. (But I'll take mine in purple, thanks.)
It's hard to know if Bungie will keep the farm exactly the same for the game's September release, but getting a peek at the new social space sure has fans buzzing.
More Destiny 2 news and updates
If you can't wait to get back out on patrol with your Fireteam, check out the rest of our coverage for Destiny 2. We've got coverage about why Bungie opted not to use dedicated servers for the sequel, why there won't be cross-play and cross-saves for PC and what you can expect from the game's PC specs and Battle.net partnership. Additionally, you can check out the new Supers being added to the game, some details behind guided games and the new Crucible changes as well. Finally, you can check out our ongoing coverage of the beta here.