Jared Kushner makes rare public statement to say he didn't collude with Russia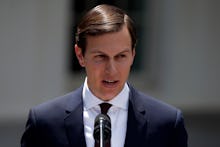 President Donald Trump's son-in-law and senior adviser Jared Kushner gave a rare public statement after his interview on Capitol Hill with the Senate Intelligence Committee Monday afternoon, in which he insisted that he "did not collude with Russia."
"Let me be very clear, I did not collude with Russia, nor do I know of anyone else in the campaign who did so," Kushner said in a brief statement outside the White House — echoing an 11-page statement he submitted to the Senate Intelligence Committee.
At points, it sounded like Kushner was gearing up to announce his resignation from the White House.
"When my father-in-law decided to run for president, I served his campaign as best he could because I believe in him and his ability to improve the lives of all Americans," Kushner said.
"Serving the president and the people of the United States has been the honor and privilege of a lifetime," Kushner added.
But instead of offering his resignation, Kushner painted himself as a behind-the-scenes guy who has been transparent about his meetings with Russia — despite the fact that he left off multiple meetings with Russians in his security clearance forms. Knowingly lying on those forms is a federal offense.
Kushner is now set to meet with the House Intelligence Committee on Tuesday to face questions on his communications with Russians during the campaign.