SNES Classic Pre-orders: Target confirms plans to offer the console ahead of time — but when?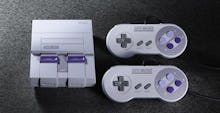 If you live in the U.S., putting in a SNES Classic preorder is near impossible. Similar to the NES Classic console before it, there will be a limited supply of the mini SNES unit. Yet unlike the previous console, SNES Classic buyers here in the U.S. — unlike in the U.K. — have had few options to buy the console.
The only retailer that's offered pre-orders of the SNES Classic console in the west is Walmart, until now.
SNES Classic pre-orders: Target will allow you to buy early
It was only a matter of time before other retailers joined the pre-order game. The latest is Target. The retailer tweeted confirmation on Saturday.
We can all thank Wufar on Twitter for posing the question that prompted Target to fess up. However, despite that official announcement, we still couldn't find any mention of the SNES Classic Edition on Target's website.
Unlike Walmart, which allows pre-orders (even though it had to cancel some), Target has yet to put up a product page for the retro console. Meaning that while pre-orders are coming, you can't quite put your order in yet. Good thing you know exactly how to get notified when SNES Classics finally do become available.
Check out more Nintendo news and coverage
Check out more video game content on Mic, including which Pokémon are actually the best and why black players can never seem to get custom characters that look like them. Learn more about how blind gamers are getting in on the fun and why Injustice 2 appears to be nerfing its female characters. See why we love Twintelle (and why we hate Twintelle) in the upcoming Arms, and don't miss our guide to dodging blue shells in the Mario Kart 8 Deluxe — you can thank us later.