Rep. Mo Brooks uses audio from Congressional Baseball Game shooting in political ad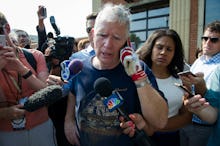 Rep. Mo Brooks, an Alabama Republican running in a Senate special election primary to replace Attorney General Jeff Sessions, has put out a campaign ad that uses audio from the shooting at a Congressional Baseball Game practice back in June in order to bolster his candidacy.
The ad opens with a black screen and the sound of gunshots, with white text across the screen reading: "June 14: A Bernie Sanders supporter fires on Republican Congressmen. Mo Brooks gives his belt as a tourniquet to help the wounded. What's the liberal media immediately ask?"
Then comes a video of Brooks at the scene, responding to a reporter's question about guns in America by saying that he still supports the Second Amendment.
The ad is a brazen use of a tragedy for political gain, and it received a stern rebuke from the office of Rep. Steve Scalise — the House majority whip who was critically wounded in the shooting.
"I guess some people have their own ideas about what's appropriate," a Scalise spokesperson told NBC News' Alex Moe.
Brooks is one of a number of Republicans running in an Aug. 15 special election Republican primary for Sessions' old seat — which Sessions vacated to join President Donald Trump's administration.
Brooks is hoping to oust Sen. Luther Strange (R-Ala.), who was appointed to the vacancy and is running in the special election to serve out the remainder of Sessions' term, which expires in 2020.