Virginia Gov. Terry McAuliffe ahead of Drive for Our Lives tour: "Health care is a right"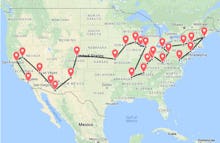 Republican efforts to kill the Affordable Care Act may be on the ropes, but progressive Democrats are still hitting the road to speak out against the plan.
"I caution Democrats: 'Til they're done, they're not done,'" Virginia Gov. Terry McAuliffe said in a Monday interview ahead of the launch of the Drive for Our Lives tour.
The upcoming tour, part of the Save My Care campaign, will feature prominent progressives including McAuliffe in a national push against attempts to strike down former President Barack Obama's signature health plan.
The five-week, 18-state tour begins July 29 as part of of a national "Our Lives on the Line Day of Action.
McAuliffe will join the tour at its Washington stop.
"We just need to get out there [and] make sure people understand: Health care is a right in this country. It's not a privilege. It's a right," he said.
Additionally, organizers told Mic, former Health and Human Services Secretary Kathleen Sebelius will join in Cincinnati and Dayton, Ohio; South Bend, Indiana, Mayor Pete Buttigieg will speak in his home city; and former Missouri Secretary of State Jason Kander, who now leads the Let America Vote project, will meet the bus in Kansas City.
"I think these Republicans are learning a very tough lesson that the rhetoric of a political campaign is a lot easier than the reality of actually governing," McAuliffe said about the attempt to "repeal and replace" Obama's reforms.
"They just can't take away health care from millions of people," he said. "So this bus tour is going to go coast to coast, I think it's going to like 18 states, and what it's going to do is really tell the story of millions of Americans who would suffer under the congressional Republicans' draconian health care bills."
With mere hours to go before a potential Senate vote, the details of the legislation aren't fully clear.
"Depending on which bill you're talking about you eliminate coverage for anywhere from 22 to 32 million Americans," McAuliffe said. "Lives are on the line, [so] we're not going to stop fighting. Every individual American is entitled to quality health care."
The bus tour will run through August, hitting the districts of lawmakers "who voted to take health care away from their constituents," organizers said.
Previously announced members of the tour include Ilyse Hogue of NARAL and Randi Weingarten of the American Federation of Teachers.