GOP congressman blames "some female senators" for tanking the health care bill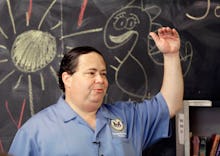 Rep. Blake Farenthold (R-Texas) thinks he knows the reason senate Republicans are having trouble passing their health care bill: "female senators."
In an interview with a local Texas radio station, Farenthold reportedly told the hosts that part of the reason the Republicans hadn't repealed the ACA was because of "some female senators from the Northeast."
Farenthold appears to be referring to just one senator, Sen. Susan Collins (R-Maine) who has consistently opposed iterations of the GOP bill in the Senate. Two other women senators, Sen. Lisa Murkowski (R-Alaska) and Sen. Shelley Moore Capito (R-W.V.), have also expressed reluctance to support the bill — though neither hails from the Northeast.
Farenthold went one step further, suggesting that, had they not been women, he might have challenged one of the senators to a duel.
"If it was a guy from south Texas, I might ask him to step outside and settle this Aaron Burr-style," Farenthold said referring to the infamous duel between founding fathers Alexander Hamilton and Aaron Burr.