Man with Nazi tattoos at Cleveland Indians game sparks outrage. The Indians' mascot is still racist.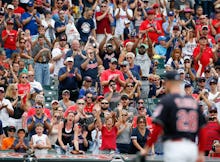 Several outlets reported Monday that a distraught father had photographed a man with Nazi tattoos sitting in front of him at Sunday's Cleveland Indians game against the Toronto Blue Jays.
The father, Martin Gecovich, shared images of the shirtless man on Twitter.
"Do my kids and I have to have a swastika and Nazi train staring at us all game today?" he tweeted at the Indians' official account.
Gecovich later made his Twitter account private, Deadspin reported, after tweeting that Progressive Field staff moved him and his children to different seats. News of the incident sparked an outcry on social media, with many questioning the Indians' policy regarding such displays at their home games.
The irony is the Indians have been embroiled in a racial controversy for years. Chief Wahoo — the grinning, bug-eyed Native American caricature who has served as the organization's logo since 1951 — has been widely likened to minstrelsy, with Native American activists repeatedly protesting outside Progressive Field to have it changed.
Some fans have launched a "de-Chiefing" movement, removing the team's racist iconography from their Indians paraphernalia in protest.
Others have remained obstinate. The resulting conflict has produced images like this:
The red-faced Cleveland Indians fan pictured on the right, Pedro Rodriguez, has since apologized to American Indian Movement activist Robert Roche.
On Friday, NBC Sports reported that Topps — the official baseball-card maker of the MLB — had stopped putting Chief Wahoo on their Cleveland Indians trading cards. In May, Indians co-owner Paul Dolan reportedly said the logo controversy will be resolved in "a couple of years," following MLB Commissioner Rob Manfred's expressed desire "to transition away from ... Chief Wahoo."
The Indians organization has started reducing Wahoo's prominence on their uniforms in favor of a block letter "C." But until the image is removed completely, the controversy will likely continue — and the outcry over this man's swastika tattoos will seem significantly more hypocritical.