'Overwatch' Update: New Zarya and Sombra comic is "not a rumor," Blizzard confirms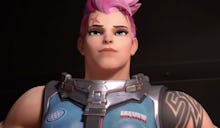 We're hot off the heels of the new Overwatch Doomfist comic, but we already know who the next comic will be about: The tank hero Zarya.
Blizzard first announced the news at its Doomfist-centric panel at San Diego Comic-Con, but Overwatch lead writer Michael Chu confirmed the news online in a post on the Overwatch forums.
Overwatch update: Blizzard confirms Zarya comic is on the way
In response to a question about future plans for an alternate reality game like the one that led up to the reveal of Sombra, forum user JRIDSTONE mentioned a Zarya comic "rumor."
"No ARG plans at the moment," Chu responded. "But I just wanted to mention that the upcoming Zarya comic is not a rumor!"
In the image (pictured above) tweeted by @guzhenn from Comic-Con, it looks as though Zarya is defending an Omnic — an interesting bit of character development, since her in-game voice lines indicate a fundamental distrust of Omnic life. Sombra's skull icon also appears on the wall behind the two figures, but it's unclear exactly what role she'll play in the comic.
In the animated short that revealed Sombra at BlizzCon 2016, Katya Volskaya seems to hire Zarya to pursue Sombra, but it's not quite clear what the relationship between the two characters will be.
No word on exactly when the new comic will arrive, but we'll keep you updated.
More Overwatch news and updates
For more on Overwatch, check out the rest of what Mic has to offer. Here is an intro to the cute, new "Wholesome Overwatch" subreddit, a look at some gorgeous Overwatch-themed PS4 and Xbox One controllers, a cool Easter Egg in the new Horizon Lunar Colony map and a criticism of Blizzard's failures in its design of Symmetra.