'Hot Mic' podcast: Charlie Gard, human trafficking, Kushner denies collusion with Russia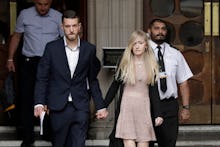 Listen and subscribe to the Hot Mic podcast from your mobile device:
Here are the important stories to know for Tuesday, July 25:
1. Charlie Gard's parents announced that they would end their legal battle to send him to the U.S. for treatment.
2. The driver of a tractor-trailer that was found with 30-40 people trapped inside has been charged with human trafficking.
3. In a public statement, Jared Kushner denied any collusion with Russia after being questioned by the Senate Intelligence Committee.
Direct from Mic's newsroom, Hot Mic keeps listeners informed with a daily run-down of top stories, breaking news and analysis from our news team.