Trump turns up his Twitter attack on his own attorney general, Jeff Sessions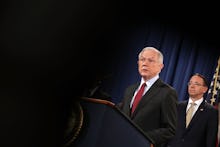 President Donald Trump ratcheted up his attacks on his own attorney general, Jeff Sessions, Tuesday morning, sending a series of tweets in which he called Sessions "weak" and suggested the nation's top law enforcement officer has not been doing his job.
The tweets mostly centered around why Sessions wasn't investigating things like purported Ukrainian influence in the 2016 presidential election — which the Washington Post fact checker said is not a fair comparison to Russia's coordinated hacking campaign.
He also questioned why Sessions hasn't been investigating Hillary Clinton. The FBI did investigate her and concluded she should not be prosecuted, and Trump himself said back in November that the Clintons were "good people" and he didn't want to hurt them.
"Attorney General Jeff Sessions has taken a VERY weak position on Hillary Clinton crimes (where are emails and DNC server) and intel leakers!" Trump tweeted.
Behind the scenes, Trump has reportedly been mulling whether to fire Sessions.
Such a move would, in part, be an effort to get rid of special counsel Robert Mueller, who has expanded his investigation from alleged Russian ties to Trump's business dealings.
Trump has said publicly he's angry with Sessions for recusing himself from the Russia investigation, which has cast a long shadow over his presidency. But Sessions said he plans to continue in his role.
Attacks on Sessions weren't the only tweets Trump sent, however.
Less than a week into new White House Communications Director Anthony Scaramucci's tenure and newly implemented "let Trump be Trump policy," Trump tweeted a handful of other messages.
He sent one in which he praised Sen. John McCain (R-Ariz.), who is making the trek from Arizona to Washington, D.C., after a brain cancer diagnosis to make the health care vote on Tuesday. Trump called McCain an "American hero," despite having once attacked him for getting "captured" while serving in Vietnam.
Trump also praised his son-in-law Jared Kushner for his Monday statement in which he vowed he didn't collude with Russia. Trump called the investigation a "witch hunt" and sarcastically tweeted that his 11-year-old son, Barron, is "next up."