Vatican shuts off historic fountains in the midst of devastating drought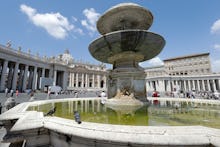 The Vatican is shutting down its fountains in the midst of an ongoing drought, turning off around 100 fountains in the tiny city-state, some of which are centuries old.
Vatican spokesman Greg Burke told Reuters on Monday that Vatican officials could not recall any other instance in which all the Vatican fountains had been shut off.
Rome, the Italian capital city that surrounds the Vatican, is in the midst of a drought that has caused two years of below-average rainfall, Reuters reported, and the summer heat has only added to the problem.
Now, Rome is considering the drastic step of rationing water. Burke told Reuters that turning off the historic fountains is "the Vatican's way of living solidarity with Rome, trying to help Rome get through this crisis."
CBS News reported on Tuesday that this spring was Italy's third-driest in 60 years, and the drought has cost Italy's agricultural industry some $2.3 billion so far.
The step is also representative of Pope Francis' larger views on the collective responsibility that humans share to protect and care for the environment. In 2015, he released a 184-page papal encyclical urging action on climate change and calling on institutions and governments to reduce consumption.
The decision to shut off the Vatican's fountains "is very much in line with the pope's thinking on ecology," Burke said, according to CBS News. "You can't waste, and sometimes you have to be willing to make a sacrifice. We have very beautiful gardens in the Vatican. They might not be as green this year, but we'll survive."