Plus-size bloggers Gabi Gregg and Nicolette Mason team up for their own fashion brand, Premme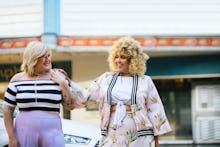 After years and years of underwhelming and disappointing plus-size fashion, plus-size women are taking things in their own hands. Rebel Wilson's got her fashion collection, as do Melissa McCarthy and models like Ashley Graham. Then there's plus-size fashion designers, like Ashley Nell Tipton and Alexandra Waldman of Universal Standard.
The latest installment of plus-size women taking charge and reinventing what it can really look like to dress as a plus-size person are Gabi Gregg and Nicolette Mason — both plus-size bloggers and models — who have teamed up to create their very own brand: Premme.
"We've been friends for almost a decade and bonded over our love of fashion and feminist ideals," Gregg (who's known online as GabiFresh) and Mason said in an email. "Our careers have taken very similar trajectories through the years, and we both had a goal of someday creating lines of our own. About three years ago, we realized we'd be even more powerful as a duo — and joined forces to begin the process of launching Premme. We have really natural chemistry together and trust each others intuition and taste; it's been really amazing to work and grow together."
Premme, which launched online today, comprises extremely fun dresses, jumpsuits, jackets and separates that are far away from the unflattering and boring stereotypical plus-size clothing you may know. There's a jacket that reads "Feminist AF" on the back, and a T-shirt that reads "BABES" in big bold letters.
"We really tried to envision our dream wardrobe and make the pieces we wanted and couldn't find readily available in the market in our size," they said. "We're really inspired by current trends, street style and celebs like Rihanna and Solange Knowles, and wanted to create similar styles and make them accessible to a wider range of people."
The collection, which is 15 items so far, goes up to a size 30, and prices range from $30 to $89.
"We wanted to include thoughtful design elements and create pieces with a strong point-of-view," they said. "There's 'something special' in each piece in the line, even our basics are a little un-basic — like our asymmetrical bodysuit and our twist-front black dress. Because we're both also plus-size women, we were able to think of little details that make real-life wear a bit more practical, like sewing down buttons on our blush bodycon and our denim midi dress to avoid gaping."
A majority of the most innovative and fun plus-size fashion we've seen these past few years has one thing in common: a plus-size designer, like Tipton or McCarthy, who clearly understand what needs to change in plus-size fashion.
These two women in particular have a history of creating meaningful fashion too, with Gabi Gregg's flirty little swimsuits for SwimsuitsForAll, and Nicolette Mason's collaboration with ModCloth. Needless to say, they're qualified in more than once sense to offer women cute, trendy and affordable styles, which seems to be exactly what they've done with Premme.
When the collection's site launched this morning, it almost immediately crashed. Clearly these women are onto something.