Here are 4 reasons Tuesday's health care vote will be different than the ones before it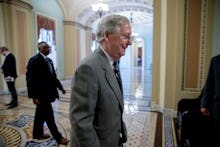 This is Mic's daily read on Donald Trump's America. This is it — the long promised Senate vote on health care.
Want to receive this as a daily email in your inbox? Subscribe here.
What we're watching:
Today: Why Tuesday's health care vote is different.
More: The new Democratic message is live.
Even more: Donald Trump is lighting up Twitter.
Yes, more: The president turned a Boy Scout Jamboree into a bizarre campaign-style rally.
Trump's agenda today: Hosting the prime minister of Lebanon. Meeting with his national security adviser. Travelling to Vienna, Ohio, for a Make America Great Again rally.
4 reasons this health care vote will be different
On Tuesday afternoon, Senate Republicans will finally take their fateful vote on health care reform. Here is what you need to know ahead of that vote — and why it's different than past votes the GOP might have taken.
1. This is do-or-die for health care reform. With the August recess and fall fast approaching, this is likely Congress' last opportunity this year to pass a health care bill. Keeping the government funded and raising the debt ceiling are must-pass pieces of legislation by the end of September.
2. Senate Majority Leader Mitch McConnell (R-Ky.) does not have the 50 votes necessary to pass a specific health care plan. In fact, he may not even have the votes to simply start debate on the bill. But he's going to force senators to cast a vote on whether to start debate. And if senators OK debating the bill, he'll propose different health care plan versions Senate Republicans have trotted out over the past few days, hoping one of them can pass.
3. We don't really know what the GOP is voting on. Republicans will move to consider the House-passed health care bill. But if debate begins, that bill will change immediately with senators offering an unlimited number of amendments that the Senate would have to vote on. Senators could even propose replacing the bill with entirely different legislation — including a bill that repeals the Affordable Care Act without a replacement.
4. Sen. John McCain (R-Ariz.) is returning. After a diagnosis of brain cancer, it was unclear whether McCain could come to Washington for a health care vote. His presence means McConnell can still afford to lose Sen. Susan Collins (R-Maine), who has promised to vote against any move toward debate, and one other senator. A House Republican said "some female senators" were to blame for the stalled bill, saying he'd challenge them to a duel if they were men.
Will the new Democratic message work?
The Democrats unveiled their new "Better Deal" platform on Monday in a rural Virginia town 70 miles from Capitol Hill. The message was clear: We will win rural and working class voters by telling them we are the party that will get them jobs and improve their lives.
I attended the event and also spoke with moderate Democrats and liberal activists. Their evaluation of the new message: This may not work.
Trump's Twitter heat on Jeff Sessions
The president is openly bashing one of his earliest supporters on Twitter. Attorney General Jeff Sessions has become a target for Trump as the Russia investigation has expanded. Trump said Tuesday morning Sessions "has taken a VERY weak position" on the Russia inquiry. The president said last week he would not have appointed Sessions if he knew he'd recuse himself from the Russia investigation.
Fears are mounting that Trump may fire Sessions and appoint an attorney general who would remove Robert Mueller. The Washington Post reported Trump may be considering Sen. Ted Cruz (R-Texas) to replace Sessions. Both Cruz and former New York City Mayor Rudy Giuliani, another name floated on Monday, have said they're not interested.
News and insight you cannot miss:
Jared Kushner gave a rare public statement yesterday to further deny collusion with Russia. He appears before the House Intelligence Committee today.
Speaking at the annual Boy Scout Jamboree, Trump told Health and Human Services Secretary Tom Price he would be fired if he didn't get the votes for health care. The president later said he was joking. But he turned the typically nonpartisan speech into a campaign-style call-and-response rally in southern West Virginia.
Rep. Mo Brooks (R-Ala.) released a campaign ad on Monday that uses audio of gunshots from the shooting of Rep. Steve Scalise (R-La.). Scalise's people were unimpressed.
A judge has denied a lawsuit that would have prevented Trump's voter integrity commission from collecting voter information from the states.