If millennial pink gets to be a thing, then surely we can have Rihanna red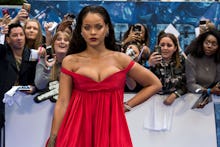 At this point, it seems as though the only person who should be allowed to step foot on a red carpet is Rihanna. At the Valerian premiere in Hollywood last week, she showed up in a light pink gown by Giambattista Valli that put even Cinderella to shame.
Then in London last night, she redefined what a head-turning, show-stopping, jaw-dropping red carpet moment really looks like at another Valerian premiere, when she arrived on the carpet (which was actually blue) looking like a vision in a giant Valli gown in a dark crimson shade we feel should forever forever be known as "Rihanna red."
Because if anyone should have a color, it's Rihanna. And if millennial pink can be a thing, then surely Rihanna red should be too.
Stepping onto that carpet last night, she looked like the queen of not just the Earth, but the universe.
Here to take your man.
And to be honest, she can keep him.
"Mona Lisa, who?" we asked ourselves.
The lipstick perfectly matches the jewels and the purse. Then there's that bust line, which, if worn by this writer, would most certainly lead to her arrest.
But on Rihanna, she looked like the empress of the entire Renaissance era, putting shame on Leonardo Da Vinci's masterpieces.
So please, whoever names colors these days, let Rihanna red be a thing. We'd paint our walls with it. We'd paint our house with it.
Make Rihanna red a thing, for the sake of all that is good in this world.