This teen created 3 killer fashion collections out of a $160 Salvation army shopping trip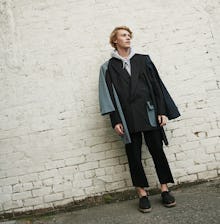 The first glimpse I caught of Max Condon was sitting in front of me at the Savannah College of Art & Design's Museum of Art Theater during an artist talk we were both attending earlier this year. I couldn't quite make out his full look from behind, but what I did see — what appeared to be a button-front shirt worn over top of a hooded sweatshirt — was enough to follow him outside after the show, and even snap a photo of the full look, which included a number of additional button-front shirts intricately sewn into the pockets of his trousers "to add density, flow, movement and moving silhouette," he later explained.
I gave the then 18-year-old freshman my business card and told him to call me if he ever found himself in New York City, convinced I had met this generation's Issey Miyake. Months later, Condon took me up on my offer during his first-ever trip to New York. The meeting was without an agenda, simply an opportunity to get to know the young man and learn his perspective informs his design process.
Asked if he was up to anything fun during his first college summer, like, I don't know, a family vacation, Condon said he was putting the finishing touches on a number of collections he was hoping to show later that very summer. "So there's more than one?" I asked. "There are three," he responded.
As it turns out, Condon's summer away from his studies at the Savannah College of Art and Design meant a reprieve from deadlines and dorm living, but no break from his true love of couture design. The Grand Rapids, Michigan, native spent the four months between freshman and sophomore year working as a food runner and busboy at Rose's on Reeds Lake restaurant and designing three ready-to-wear collections, 42 looks in total, all of which will be presented on Thursday evening in a runway presentation in his hometown.
According to Condon, the idea for the collections came from Black Friday shopping at Salvation Army this past fall. "I came to the aisle of suit jackets, running my fingers over the shoulders, down the sleeves, around the buttons, and kept on being stopped by the various textures, shades and weights of several jackets," Condon explained in an interview. "I wanted to get all of them, and they were all one dollar, so I did." The total for seven suit jackets was $7.
Condon, a keen observer of runway trends since his not too far-gone youth, says he first noticed the trend of elongated sleeves on the J.W. Anderson runway. He loved the aesthetic, but realized that desperately searching for one's hands in swathes of fabric might prove cumbersome, so functionality became a key design motivation in transforming the seven suit jackets into one super-jacket.
The result:
"With the suit coats I began to separate sleeves from jackets and place them on or underneath the main sleeves of a base jacket," he said. "This created a silhouette that changes depending on the environment it was worn in." This super-jacket was the first in what would grow to be an entire collection he dubbed "Then and Now," one of the three Condon is presenting at the Tanglefoot Building, an old flypaper factory.
Condon says the theme for that collection spawned from questioning why a garment like a shirt had to be worn over one's chest. "I would engage in an experiment seeing how many ways I could wear a men's dress shirt, throwing away the conventionality of its intended purpose," he explained.
He continued:
Buttons, pockets, collars, cuffs, panels; I love spontaneous design, that's why I don't sketch too often. Working with the fabric and seeing what can be created is my form of sketching. I developed this collection based on spontaneous design, laying shirts, pants, legs, arms and all to develop something more interesting.
As if he hadn't challenged himself enough, Condon also opted to source all of his fabrics from the Salvation Army. This was important for him not only financially, but also socially, he explained, recounting watching the The True Cost, a 2015 documentary about the impacts the fashion industry is having on the world. Creating a sustainable collection wasn't Condon's first intention, but it resulted from his desire to experiment with creating new from old. In total, Condon estimates he spent around $160 in total.
Once complete, the next step was presentation. To execute the runway, Condon recruited two of his closest friends from high school to help plan and organize the show. The three of them parsed through their high school yearbooks to cast the models necessary for the show.
"I think we probably contacted around 50 students through communication via text, Instagram DM and Facebook messaging," he said. "We had about 18 spots to fill, but with summer people are busy, traveling, working with inconsistent schedules and some didn't respond or weren't interested at all." But for those that were, Condon set up a backdrop at his house and brought them in for a fitting.
"This project really is from the ground up, working with my two friends who have never been to a fashion show, models who are just first-year college students and high school students with no experience at all," he said. "It's an exciting time and process."
Condon will tell you the collection was without a clear vision. But his description of what he's created says otherwise:
My latest collection questions the conventionality of the common shirt and other common pieces of clothing that are shown to be worn one way. Most all clothing is shown to be worn one way, except for reversible things. So [my collection] tries to challenge the wearability of the garments to test their limits and see what their strengths are in new shapes and cuts. Overlapping, expanding, elongating, stretching, wrinkling and other forms of modification were all an experiment in this collection. An experiment was really all it was, to expand the limits of what we see everyday.
As for what's next, Condon will begin his sophomore year in the fall attending SCAD's Hong Kong campus to, in his words, "experience and submerge myself in a new place, new culture, people, ways of life, style, purpose." In five years, he said he hopes to see himself working for a magazine, brand or agency in departments of styling or art direction. "Maybe even a little designing on the side," he says with a laugh. "Who knows? I'm open for whatever comes my way."
Check out Condon's full runway show below: