'Overwatch' Summer Games 2017 Date: Data-mined sound files suggest the event's return is imminent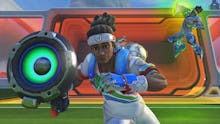 Blizzard can't hide anything from data miners. We've seen hidden files dug up time and time again that tell us about imminent events in Overwatch. It generally works in their favor because all it does is get us excited about what's coming next.
Data miners find Summer Games sound files in Overwatch
This comes courtesy of Reddit, where data sleuths have found sound files that are pretty clearly from whatever the next seasonal event is. Since it's summer, we're guessing it's the return of the Summer Games, which started in Overwatch last year as an unofficial Olympics tie-in.
Since it's not an official tie-in, it means Blizzard can handle the event however they want. Unfortunately, there are still no official details from Blizzard on when Summer Games 2017 will start or what to expect.
If it's anything like last year's Games (or all of the other seasonal events in Overwatch), it'll bring new skins, voice lines and all that other fun stuff themed around global athletic competition. Maybe it'll bring back some of the old ones that some of us weren't lucky enough to get the first time round, like McCree's American flag cloak.
Characters like Sombra, Orisa and Doomfist have come around since the last Summer Games, so maybe they'll get some fun skins, too. We'll let you know as soon as we find out more.
More Overwatch news and updates
For more on Overwatch, check out the rest of what Mic has to offer. Here is an intro to the cute, new "Wholesome Overwatch" subreddit, a look at some gorgeous Overwatch-themed PS4 and Xbox One controllers, a cool Easter Egg in the new Horizon Lunar Colony map and a criticism of Blizzard's failures in its design of Symmetra.