Total Solar Eclipse 2017: How to watch it online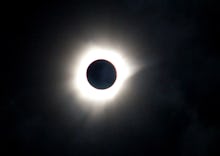 While it might seem like everyone is talking about where they'll be for the Great American Eclipse on Aug. 21, just as many people will be stuck in Monday meetings, nowhere near the line of sight for the total solar eclipse. Though it may feel like a bummer to miss seeing this astronomic phenomenon in person, technology is on your side.
Prevent eclipse FOMO by streaming the whole thing online. The first point of totality — that's the part when the moon covers the sun, resulting in some strange daytime darkness — occurs at 10:15 a.m. Pacific time on the Oregon coast, so make sure to tune in by then so you don't miss a minute of the celestial action. Live coverage will be streamed from several airborne cameras throughout the country, but below are the online channels that will provide the most comprehensive digital eclipse-watching experience.
NASA
NASA will stream the total solar eclipse from parks, stadiums, libraries, festivals, museums and more public spaces. Footage will also be shared from a NASA spacecraft, aircraft, high-altitude balloons and the International Space Station. Think of NASA as your VIP ticket to super-exclusive eclipse views.
Watch here.
The Exploratorium
The San Francisco-based Exploratorium Museum will be livestreaming coverage from the path of totality in both Oregon and Wyoming, with channels available in English and Spanish. Those who won't be near a computer during the livestream can download the Exploratorium's free Total Solar Eclipse app to tune in.
Watch here.
Slooh
This online telescope platform will be showing the total solar eclipse live from Elk Creek Campground in Stanley, Idaho, which is directly in the line of totality. Assuming the weather cooperates, you can enjoy cloudless views of this Rocky Mountain-surrounded skyscape as it goes dark for the eclipse.
Watch here.
Time and Date
Time and Date's livestream will include user-generated footage from various points along the solar eclipse's path. Those who want to contribute to the livestream can email webmaster@timeanddate.com with their coverage plans, but it's so much easier to just stay inside and watch.
Watch here.
Science Channel
In addition to pre-coverage that explains what you'll actually see during the eclipse, the Science Channel is planning to broadcast the total solar eclipse live from Madras, Oregon, on its Facebook page. Good news for those unavailable to watch the livestreams as they happen: Science Channel is planning a Great American Eclipse special to air at 9 p.m. Eastern and Pacific times on Aug. 21, using live footage captured from Nebraska to Tennessee.
CNN
CNN will livestream the total solar eclipse from Snake River Valley, Idaho; Beatrice, Nebraska; Blackwell, Missouri; and Charleston, South Carolina. The footage will be captured with 360-degree video cameras in 4K resolution, which you can watch on your computer, phone or with a VR headset.
The network has also partnered with Volvo to showcase the 2018 Volvo XC60s, which are outfitted with advanced 360-degree cameras to capture the eclipse. This is the only comprehensive 4K stream of the total solar eclipse, so those with 4K-equipped devices can tune in for super high-res coverage.
Watch here.
July 31, 2017, 3:40 p.m.: This story has been updated.