'Splatoon 2' Salmon Run Closed: Grizzco runs on a schedule, so get your play time in when it's open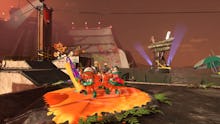 Salmon Run is the major new mode in Splatoon 2, with co-op horde mode action filling out the three-pronged shooter design standard alongside the single player and competitive offerings. It's fun as hell and puts a Splatoon twist on the concept, with matches that last about 10 minutes and don't require voice chat.
The only problem is you can't play it whenever you want.
How to check the Splatoon 2 Salmon Run schedule
The main thing you need to know about Salmon Run is that it runs in 12-hour intervals but not during the same 12 hours every day. In order to check it, press X while you're in Inkopolis Square. That brings up the Splatoon 2 main menu. Tab over to the "Stages" part of the menu where you can see which stages are active in each of the game's modes. Scroll down on the "Stages" menu and you should see this.
As you can see, it shows you the schedule for the next few days of Salmon Run. Sometimes it will be friendly for people with school or work, sometimes it won't. That's just the way of things.
It's not really clear why Nintendo is doing Salmon Run this way or if it will ever change, but hopefully the times are friendly to the player base. You can still play private online Salmon Run matches with your friends or local matches with multiple Switch consoles at any time of day.
More Nintendo Switch news and coverage
Looking for more Nintendo Switch news? Check out how blind gamers are using the Nintendo Switch. Nintendo's left Joy-Con issue turns out to be a hardware problem — here's how to solve it. Find out how to buy a console amidst the recent restock. Learn why the Switch cartridges taste so bad. Check out our comparison photos sizing up the Switch to the Wii U GamePad (part one and part two), or find out how to make use of ethernet without the dock and the best way to get alerts when new stock arrives.