'NBA Playgrounds' New Players: "Hot Update" 1.3.0 out now for PS4 — but what about Nintendo Switch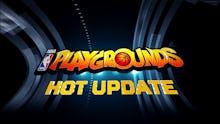 Saber Interactive has done a ton of work on NBA Playgrounds since it released in May, and there's another update on the way.
The NBA Playgrounds "Hot Update" will add 33 new players, revamp the rebounding system to include tip slams, open up friends invitations and add a three-point shootout.
The update went live for PS4 and Steam on Tuesday, but the Xbox One and Nintendo Switch versions are still awaiting the change.
Click here to see the full details of the update. You can watch the teaser trailer just below.
'NBA Playgrounds' new players and more "Hot Update" details
In the video, you can see an older version of Wilt Chamberlain as well as a retro Chicago Bulls version of Luol Deng and others.
The new rebounding will hopefully deliver a little more rhyme and reason to that aspect of the game while the addition of tip slams offers another potentially exciting type of play.
The friends invitations are great for gamers who don't always want to play against random people online, but the three-point competition might be the biggest new feature in the update.
There's nothing more pick-up-and-play than a three-point shootout. From the brief preview shown in the video, you can see there are traditional ball racks set up on the court and shooters look to be moving from station to station.
There may be some sort of twist, but conceptually, this is a good idea.
If executed correctly, it could be another fun and worthwhile layer for this ever-evolving hoops title.
More sports gaming news and updates
Love sports games? Check out more content from Mic, including tips for leveling up your NBA 2K17 MyPlayer, playing quarterback in Madden 17, our review of MLB The Show 17 and the classic Nintendo sports games we want to see on the Switch.