Xbox Games with Gold August 2017: 'Slime Rancher' and 'Trials Fusion' headline free games list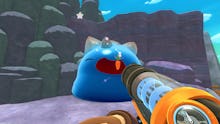 Another month, another four free games courtesy of the fine folks at Xbox — as long as you pay for Xbox Live Gold, of course.
We've just learned what the free games for August 2017 will be, which means you don't have much time to pick up the free games from July. Get on it, people.
Xbox Games with Gold August 2017 includes Slime Rancher and Bayonetta
If you're an Xbox Live Gold subscriber, here's what you get across two platforms in August:
Slime Rancher and Trials Fusion are your Xbox One games, while Bayonetta and Red Faction Armageddon are available on Xbox 360 and Xbox One via backwards compatibility. As always, their availability is staggered throughout the month, instead of making all four games free for the entire month.
Slime Rancher is a first-person farming game of sorts set on a faraway planet populated by adorable slime creatures. You'll use a vacuum gun to run a space farm with the weird slimes as your livestock. Trials Fusion is the latest in the long-running Trials series of super precise motorbike obstacle course games. It is very difficult and might make you want to throw your controller.
Bayonetta, of course, is the ultra stylish action game starring the titular witch whose hair forms both her clothing and her crazy demon attacks. She wears high heels that are also guns, which is a cool thing to do. Red Faction Armageddon takes place in a series of underground tunnels on Mars, where you'll use fun physics-based weapons to alter the environment and shoot aliens. It has linear level design unlike its open world predecessor Guerrilla, but the destructible environments work the same.
More gaming news and updates
Check out the latest from Mic, like this deep dive into the cultural origins of Gamergate. Also, be sure to read this essay about what it's like to cosplay while black, a roundup of family-friendly games to play with your kids and our interview with Adi Shankar, producer of the animated Castlevania Netflix series.