The Women's March launches 'Resistance Revival' in effort to keep anti-Trump momentum going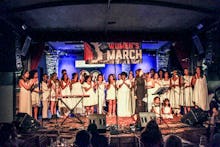 It's just before 7 p.m. Monday night, and a line of women is forming outside of City Winery in New York City. An older woman with graying hair flying loosely and with "Resistance" scrawled across her shirt, a young black woman with feminist pins scattered across her denim jacket and a middle-aged Asian woman who appears to have just left the office — all three are part of the growing crowd. They are waiting to enter an event to commemorate the six-month anniversary of the Women's March on Washington and to kick off the first of many nights organizers are calling the "Resistance Revival."
These pop-up protest concerts, put together by the Women's March organizers and planned in collaboration with the Working Families Party, are "calling for a resistance revival, a revival of our spirits, of our commitment to the movement, of our joy and of our power," according to an emailed statement.
Paola Mendoza, one of the National co-chairs of the Women's March and co-organizer of the Resistance Revival Chorus flash mob that took place in Times Square on Friday, explained to Mic that the concept for these nights of song is inspired by Women's March honorary co-chair Harry Belafonte, who famously said, "When the movement is strong, the music is strong."
Under the dim blue lights of the City Winery stage, the 32 members of the Resistance Revival Chorus, dressed in white and led by musical director Abena Koomson-Davis, opened the evening singing "Ella's Song," immediately inspiring the crowd to stand up, clap their hands and sing along.
We who believe in freedom cannot rest
The evening continued with 20 different performances — from church songs that had the audience stomping their feet in appreciation, to ballads crooning the names of those lost to police violence and a beat-boxing singer who used a looper to create echoes of herself singing an ode to her body.
Nelini Stamp, one of the organizers of the Working Families Party and member of the Resistance Revival Chorus, took the audience through a history of music as a form of protest and galvanization, interspersing her speech with choruses from slave songs, '90s hip-hop and Occupy Wall Street protest chants. "Hip-hop was born from resistance," she said to a cheering audience. Stamp was followed onstage by singer Abby Dobson, who instantly quieted the excited crowd with a low hum, then — "Say her name."
For the chorus' musical director, singing is not just a metaphor for coming together, it is coming together, Koomson-Davis said in an interview. "That involves politics," she continued. "That involves people trying to figure out how to line up — how to align, rather, with one another. That's not a metaphor. That's not a symbol. That's what we actually have to practice doing; not only on the stage, not only as women together, but in our lives."
Mendoza, who co-organized and hosted the evening, made sure to mark the concrete wins the resistance had made in the last six months, citing moments such as the airport protests following the Muslim ban executive order in January and the American Health Care Act failing twice in the Senate. The evening was one of celebration, but also one of remembering how the far the movement has come, and how far the movement has yet to go.
One look around the room and it was clear that the event's attendees were already invested. Does that make the movement any less effective? Sarah Sophie Flicker, a national co-chair of the Women's March and the woman who birthed the idea of the Resistance Revival Nights, recalled another set of Harry Belafonte's words in an interview: "Sometimes you have to preach to the choir if you want them to keep on singing."