'Dream Daddy' Damien Ending Guide: How you end up with the vampire transgender dad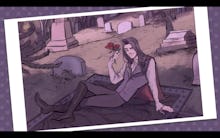 When Damien isn't making waves for being an inclusive character, he is one of the dads you can romance in Dream Daddy. Damien is mysterious, but also kind of a sweet nerd — he works in IT and volunteers at a pet shelter in his free time.
If you're trying to end up with Damien and start a vampire coven, here's what you can expect.
As most of the scenes start, Damien and the main character sit on a bench and are talking. Damien thanks the main character for helping him embrace his identity — up until that point, Damien has been struggling with looking like a Victorian-era vampire, but working in a modern field and volunteering with dogs.
Damien says that because of the main characters support, he's been able to embrace the multiple parts of himself — which is a pretty nice message. The two embrace in a kiss, even though, as Damien notes, that wouldn't be allowed in the Victorian era.
The final scene starts at about 1:08:11.
More gaming news and updates
Check out the latest from Mic, like this deep dive into the cultural origins of Gamergate. Also, be sure to read this essay about what it's like to cosplay while black, a roundup of family-friendly games to play with your kids and our interview with Adi Shankar, producer of the animated Castlevania Netflix series.