ThinkGeek NES Classic Stock: Retro console returns from the dead ahead of SNES Mini release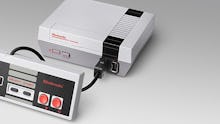 When we first heard stock of the NES Classic would cease to exist, we didn't want to believe it. Then Nintendo made the extinction official, confirming to us all that the company hates profit. While news of the SNES Classic console, Nintendo's followup, quelled the situation, some have more nostalgic feelings toward the original Nintendo box. Luckily for them, ThinkGeek is doing the unthinkable.
NES Classic stock returns: ThinkGeek revives the fallen retro console
ThinkGeek's product page had us hopeful in the past, only to find out the "Coming Soon" on their NES page was indicative of how easy it is to forget to update product pages.
This time, though, the NES Classic actually is coming back.
Unfortunately, ThinkGeek is taking notes from GameStop and offering the NES Mini in bundles. A spokesperson for the company told Mic in an email that prices range from $139.99 to $219.99, meaning, at the very least, you'll be spending $80 more than Nintendo's original $59.99 price tag.
Here is where you can snag your NES Classic bundle. According to ThinkGeek's spokesperson, there will be "thousands of units available" — so act fast while supplies last.
What are the NES Classic ThinkGeek bundles?
In order of price, ThinkGeek is offering:
NES Classic Edition, Three Canvases, Puzzle and Puppet, $139.99
In this bundle, you'll get Nintendo-themed items like art and puzzles along with your NES Classic.
NES Classic Edition and Tetris Lamp and Book, $149.99
This bundle will light your way through puzzles with a Tetris lamp, NES Classic and "Playing With Power" book.
NES Classic Edition, Book, Lamp and Puzzle, $149.99
For this bundle your NES Classic comes with a puzzle! Not all games take place on a screen.
NES Classic, Slate and Shield Backpack and Travel Mug, $159.99
This bundle will net you a shield straight out of Hyrule, travel mugs and a Sheikah Slate sketchbook.
NES Classic Edition, Mega Man Helmet and 8-Bit Pin Set, $169.99
The Mega Man bundle offers up a pin set for the games' and helmet for the blueish robot himself. Along with the NES Classic console. You can find it here.
NES Classic Edition, Mega Man Helmet, Proto Man Buster and Mega Buster Mug, $219.99
The most expensive bundle can be found here, for those even more of a Mega Man fan than the bundle above.
Does this mean the NES Classic is back?
While ThinkGeek may have unearthed some unaccounted for supply of the NES Classic, there's a good chance this is the last hurrah for the retro console. With Nintendo officially killing it off and the SNES Classic replacing it soon, we'll likely never see the NES mini again. Outside of eBay, that is.
July 25, 3:30 p.m. ET: This story has been updated
Check out more Nintendo news and coverage here
Looking for more Nintendo Switch news? Check out how blind gamers are using the Nintendo Switch and why you can't get your Mii to look quite like you. Nintendo's left Joy-Con issue turns out to be a hardware problem — here's how to solve it. Find out how to buy a console amidst the recent restock. Learn why the Switch cartridges taste so bad. Check out our comparison photos sizing up the Switch to the Wii U GamePad (part one and part two), or find out how to make use of ethernet without the dock and the best way to get alerts when new stock arrives.