Hundreds of disability rights activists vow indefinite sit-in if GOP proceeds to ACA repeal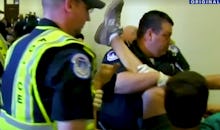 On Tuesday, just as Senate Republicans were meeting behind closed doors to make their final case for a motion to proceed on debate of the health care bill, hundreds of protesters with ADAPT, a grassroots organization that fights for the rights of Americans with disabilities, were planning a massive sit-in at the lobby of one of the Senate office buildings, ADAPT spokesman Adam Prizio said in a phone interview.
Before the vote to proceed passed, ADAPT vowed that if the Senate proceeded to the repeal vote, the organizations' protesters would occupy the Hart building indefinitely — or until "police arrest [them], one-by-one."
"At 2 p.m., a few hundred of us will be holding a vigil in the Hart Senate Office Building pending outcome of the motion to proceed," Prizio said. "If the vote passes, ADAPT will be very disappointed. America has seen what that looks like."
According to the ADAPT Twitter account, after the Senate passed the motion to proceed, the police circled protesters in the atrium of the Hart building. An organizer told Mic that at least 25 protesters have been arrested so far.
This isn't the first time ADAPT has organized protests against Senate Republicans over their mission to repeal and replace the Affordable Care Act. In June, dozens of protesters with the grassroots organization stormed the office of Senate Majority Leader Mitch McConnell, demanding that the Republican senator "stop the attacks on disabled people's freedom."
In the press release for that protest, ADAPT argued that the Medicaid cuts in the bill would prove fatal to some Americans with disabilities.
"The [bill] caps and significantly cuts Medicaid, which will greatly reduce access to medical care ... for elderly and disabled Americans who will either die or be forced into institutions," the statement said. "Our lives and liberty shouldn't be stolen to give a tax break to the wealthy."
That protest made national headlines when footage emerged from the scene of law enforcement physically removing protesters with disabilities.
A reporter at the scene noted that police left a trail of blood as they dragged a man away from McConnell's office.
According to the Associated Press, dozens were arrested at that day of action.
Republicans on Tuesday passed the motion to proceed to debate to repeal the ACA. The Senate is expected to vote on the repeal itself on Wednesday.
July 25, 2017 3:49 p.m.: This story has been updated.