Paul Manafort is meeting with Senate investigators. Here's what we know about his Russia ties.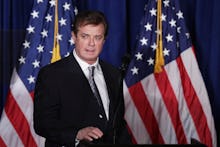 Paul Manafort — President Donald Trump's former campaign manager — has been subpoenaed to appear before the Senate Judiciary Committee on Wednesday, according to a joint press release from Sens. Chuck Grassley (R-Iowa) and Dianne Feinstein (D-Calif.).
Manafort — who attended an infamous 2016 meeting with Donald Trump Jr. and a Russian lawyer who supposedly had dirt on Hillary Clinton — had originally avoided a subpoena by agreeing to provide the Judiciary Committee with documents and submitting to an interview by the committee. But according to Grassley and Feinstein — the chair and ranking member of the committee — "we were unable to reach an agreement for a voluntary transcribed interview with the Judiciary Committee."
"We need answers," Feinstein tweeted. "That's why the Judiciary Committee issued a subpoena for Paul Manafort."
Manafort's ties to Russia
Manafort has links to Russia that date back more than 10 years.
In 2005, he pitched a lobbying plan to an ally of Russian President Vladimir Putin to "influence politics, business dealings and news coverage inside the United States, Europe and former Soviet republics" to benefit the Kremlin, according to the Associated Press.
He reportedly signed a $10 million annual contract with Russian aluminum magnate Oleg Deripaska in early 2006, and apparently worked for him until at least 2009.
Manafort has also for years worked on behalf of Putin-connected Ukrainian politician Viktor Yanukovych, who served as president of that country from 2010 to 2014. He began working for Yanukovych in 2005 and as an adviser to his 2010 campaign helped get the pro-Kremlin politician elected. Yanukovych was forced to flee Ukraine to Russia amid protests against his administration's Putin ties.
Neither Manafort nor his consulting firm registered as a foreign agent until late June, when the firm retroactively filed papers showing that the firm had received $17.1 million over two years from the pro-Russia Ukrainian political party. Purposely failing to register as a foreign agent is a felony.
In early July, it was reported that Manafort, Trump Jr. and Jared Kushner had met with Kremlin-linked lawyer Natalia Veselnitskaya to collect damaging information about Clinton.
A source close to him claimed that he was not aware he was meeting with Veselnitskaya because he didn't read his emails all the way to the bottom. He has also said that he "never knowingly spoken to Russian intelligence officers."
Manafort on Tuesday met with investigators from the Senate Intelligence Committee — which is conducting one of four major investigations into Trump's ties to Russia — to discuss that Trump Tower meeting and his previous work on behalf of Russian interests.
Per the subpoena, he is due to appear in a public hearing before the Senate Judiciary Committee, which is conducting its own Russia probe, on Wednesday.