'The Sims 4' Xbox One release date leaks on the Xbox Live store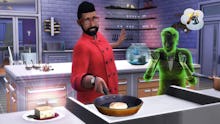 The Sims 4 might finally be getting an Xbox One release date. Here's what you need to know about it's overdue console launch.
The Sims has always been predominantly a PC series, raking up incomprehensible sales numbers over the past two decades on the platform. It's one of the last big franchises where console support is generally an afterthought, even if it comes eventually.
Thanks to a leak on the Microsoft store, it sounds like "eventually" is very soon in the case of The Sims 4.
The Sims 4 Xbox One release date: Nov. 17?
GameSpot reported that the Microsoft store now hosts a page for an Xbox One version of The Sims 4 with a Nov. 17 release date. That's interesting because, uh, that hasn't been officially announced yet by EA. There isn't an equivalent page on the PlayStation Store right now, but I can't imagine this will be an Xbox exclusive.
The store page is pretty barebones, featuring just a few screenshots and a basic product description. It's not clear what, if any, of the game's numerous DLC packs will be included, but players who preorder will get the "Perfect Patio Stuff" pack.
This comes three years after The Sims 4 launched on PC. Better late than never, right? Seriously, though, The Sims is easy to get lost in for dozens of hours if you're not careful. Hopefully this version is good enough to carry on that tradition.
Update: Well, that didn't take long. Per the official PlayStation Twitter account:
More gaming news and updates
Check out the latest from Mic, like this deep dive into the cultural origins of Gamergate. Also, be sure to read this essay about what it's like to cosplay while black, a roundup of family-friendly games to play with your kids and our interview with Adi Shankar, producer of the animated Castlevania Netflix series.