Senate Republicans advance Obamacare repeal effort to debate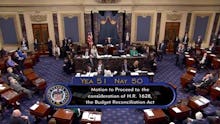 Senate Republicans cleared their first major hurdle in their effort to repeal and replace the Affordable Care Act, securing the votes needed to proceed to debate.
The motion to proceed, which officially starts debate on a bill, passed the Senate 51 to 50, with Vice President Mike Pence casting the tie-breaking vote.
GOP Sens. Lisa Murkowski of Alaska and Susan Collins of Maine were the lone Republicans to vote no.
The vote was tense.
As Republicans announced the start of the vote, protesters in the gallery began chanting "kill the bill, don't kill us" and sustained chants of "shame" before being removed from the chamber and arrested.
Sen. Ron Johnson (R-Wis.) waited until almost every other Republican senator had voted, and was seen having a heated discussion with Senate Majority Leader Mitch McConnell before voting yes.
And Sen. John McCain (R-Ariz.), who is recovering from surgery that found a malignant brain tumor, landed in Washington, D.C., just as the vote began. Republicans held the vote open until McCain made it to the Senate floor to vote yes.
But the MTP was just the first part of a fraught process for Republicans, who still don't know which one of several GOP-crafted plans will be voted on.
It seems none of the options Republicans are debating have the 50 votes needed to pass.
The latest idea Republicans are kicking around is what they're describing as a "skinny repeal," which would repeal the taxes and individual mandate created by the ACA, better known as Obamacare.
Senate Republican leadership proposed that plan as a way to have the party pass something that can be worked on in conference with House Republicans, who passed their own version of an ACA repeal bill in May.
But the nonpartisan Congressional Budget Office scored a similar plan to the "skinny repeal" option back in 2015, and the results were not good. The CBO found a skinny repeal would cause premiums to spike by 20% and leave 15 million more people uninsured.
For now, however, the Senate will have 20 hours of debate divided evenly between both parties, meaning it will be late Wednesday morning — at the earliest — before any votes are taken on health care policy proposals.