PewDiePie, YouTube's biggest star, is leaning into his new, far-right following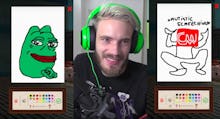 When Felix "PewDiePie" Kjellberg, YouTube's most lucrative, popular superstar, uploaded a video featuring a banner emblazoned with the words "Death to all Jews," along with a man dressed as Jesus saying, "Hitler did absolutely nothing wrong," he insisted it was just all just jokes made in bad taste. After losing his partnership with Disney, Kjellberg apologized, saying he was just poking fun at the "modern world."
But attempts to distance himself from his message didn't deter the so-called "alt-right" from accepting the Swedish social media star as one of their own, nor did Kjellberg's insistence that he wanted nothing to do with them.
"As laughable as it is to believe that I might actually endorse these people, to anyone unsure on my standpoint regarding hate-based groups: No, I don't support these people in any way," Kjellberg wrote in a blog post after the accusations of anti-Semitism.
Kjellberg may not support them, but in the few short months since his anti-Semitism scandal, far-right celebrities have become Kjellberg's favorite new bedfellows.
In a video of Kjellberg playing a game called Passpartout: The Starving Artist, he used the in-game painting feature to put up illustrations of Donald Trump, a sketch of CNN's face on the "autistic screeching" meme and a hand-drawn Pepe, well-known as an innocent green frog comic co-opted by the far right as a racist dogwhistle. For all his prior work insisting he wants nothing to do with hate-based groups, he appears to have made a sharp pivot.
Over the past few weeks, PewDiePie's gone back and forth with alt-right celebrities like Lauren Southern, while far-right talking heads like Paul Joseph Watson commended Kjellberg for a video in which Kjellberg said the only reason people perpetuate the idea of a pay gap between genders is to make themselves "feel better."
And then, last week, far right conspiracy theorist extraordinaire Alex Jones sent a tweet to Kjellberg asking the famous gamer to slide into Jones' direct messages.
The @pewdiepie account followed Jones back, presumably so they could speak in private.
Embracing PewDiePie offers an enormous opportunity to the right. America's youngest generation of voters overwhelmingly prefer socialism to capitalism, and presidential candidates like Vermont Sen. Bernie Sanders to President Donald Trump. The right is clinging to meme culture and social media as a possible inroad with a demographic fleeing from traditionalist values and there's no better megaphone to trot out reactionary politics to a generation of young gamers than Kjellberg, a YouTuber with over 55 million subscribers who considers himself a martyr of mainstream media scrutiny.
When Infowars' Paul Joseph Watson tried to convince Twitter that conservatism is "the new punk rock," nobody was buying it. We'll see what happens if one of YouTube's biggest superstars starts selling it.