Total Solar Eclipse 2017: What to pack for this once-in-a-lifetime trip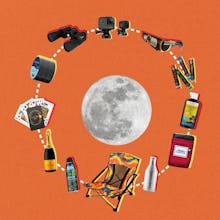 As the Great American Eclipse looms near, you'll want to make sure you have all the necessary gear to observe this rare solar phenomenon — especially since it's probably the most exciting thing to happen on a Monday in America in 99 years.
Whether you're traveling across the country, driving a few hours from home or watching from your own backyard, you'll need protective glasses, binoculars, photo equipment and other items in order to have the best possible viewing experience come Aug. 21. The Total Solar Eclipse app will help you track the point of totality and other eclipse details on the big day, but there are a few other key items you'll need to pack for this trip.
Eclipse glasses
First of all — and most importantly — you'll need a special pair of eclipse viewing glasses that let you stare straight into the sun while preventing permanent eye damage or blindness. Glass designers are capitalizing on the opportunity to design pricy protective eyewear you'll probably never wear after the two-minute eclipse is over, but there's a way to spare your bank account.
Head online to purchase some budget-friendly glasses with patterns featuring Bill Nye, the American flag or the solar system. Eclipse glasses, $1.25 per pair for a package of 50 disposable frames at eclipseglasses.com.
A deck of cards
The whole eclipse process takes more than four hours, which is longer than most movies. Need a way to pass the time before the main event? To preserve your phone's battery, pack a board game, book of Mad Libs or a deck of cards to keep your crew occupied. If you want to really set the mood, you can order custom playing cards to commemorate the occasion. Total solar eclipse custom text playing cards, $10.50 at zazzle.com.
Solar binoculars
If you want to get a closer look at the action, invest in a pair of NASA-approved solar binoculars to protect your eyes as you gaze at the bright sky. After the eclipse, you can use these binoculars like you would any other pair — or make a hobby of seeing other solar eclipses, which happen multiple times a year across the globe. Celestron EclipSmart solar binoculars, $69.95 at celestron.com.
Sunscreen
The whole idea is to sit in the sun (OK and the semi-apocalyptic two-minute shadow of the sun) for hours, so make sure you're safely applying SPF to protect your skin. Pick a formula with zinc oxide and titanium dioxide, which help the lotion both stay on your skin and block UV rays, and stick with a minimum SPF 15. Anything less isn't powerful enough to protect you from sun damage. Dr. Mercola broad spectrum sunscreen SPF 30, $18.97 at shop.mercola.com.
Bug spray
Getting eaten alive by mosquitos and other tiny insects is a great way to ruin the eclipse's much-anticipated point of totality. While it's tempting to go for natural oils or citronella to ward off bugs without chemicals, Consumer Reports research shows that the most effective bug repellants contain 15% to 30% DEET, 20% picaridin or 30% oil of lemon eucalyptus. Total Home woodland scent insect repellent, $5.99 at cvs.com.
A blanket to sit on
Don't count on the eclipse viewing party you're attending to have enough seats. Opt for a compact, lightweight blanket you can lay just about anywhere. Plus, the blanket folds up and fits in your pocket for whenever you need to move. Matador pocket blanket 2.0, $29.99 at matadorup.com.
Portable chair
If you're not a sit-on-the-ground type of person or just want a little more comfort, pack a lightweight, portable chair you can set up in seconds. A chair with a carrying bag, like this one from Crazy Creek, makes transport easy. Crazy Creek crazy legs quad beach/festival chair, $47 at crazycreek.com.
Water bottle
Sitting in the sun for the partial eclipse leading up to the main event will leave you parched if you're not drinking enough water. Opt for a stainless steel water container to keep your beverage cold instead of letting the liquid boil in the sun. Condensation-free bottles, like MiiR's growler, won't sweat — so the rest of your belongings will stay dry. MiiR Heritage 64-ounce vacuum-sealed growler, $54.95 at miir.com.
Champagne
A total solar eclipse is a special occasion worth celebrating. Depending on your state liquor laws and where you'll be watching, you can whip up homemade mimosas if totality occurs in the morning. For the celestial occasion, go with Veuve Clicquot, which has a comet not-so-secretly decorating every bottle, just to keep with the atmospheric theme. Veuve Clicquot brut yellow label, $55.99 at wine.com.
GoPro
If you want to capture the eclipse without sacrificing precious time snapping photos, set up a GoPro time lapse on a tripod (Space.com recommends this method). You can record digital footage of the entire experience and still be hands- and screen-free. GoPro Hero Session, $149.99, and a tripod mount, $19.99 at gopro.com.
Black electrical tape
Daniel Oppliger, who previously led eclipse viewing cruises with the travel agency Tropical Sails Corp, covers his guests' phone and camera flashes with black electrical tape before the celestial event. Why? During an eclipse, your pupils dilate as they would at night, meaning a flash might constrict your pupils and force your eyes to readjust, likely causing you to miss the rest of the eclipse. Be on the safe side and cover that flash with black tape. Dwarm black electrical tape, $9.99 for a pack of three on Amazon.
Portable snacks
A variety of high-protein snacks will satiate any cravings during what might be a traffic-filled trip. Non-perishable meat products (like jerky) are a solid option if you tend to get hungry between meals. If you prefer not to eat meat, opt for individually packaged nut butters you can squeeze right in your mouth or onto crackers or apples. Justin's Natural classic almond butter squeeze packs, $13.90 for 10 at justins.com; Chef's Cut snack sticks trial pack, $16 for eight at chefscutrealjerky.com.