Want to get rich? Here's what 7 millionaires were doing in their 20s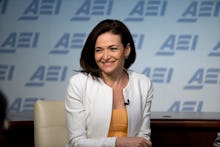 At what point do you know whether you'll be financially successful? If these seven millionaires (and billionaires) are any indication, the answer often doesn't come into well into your 20s — or beyond. Sure, you may have gone to a good school. But did you land a job that was a good fit, one that would allow you to slowly move up the ranks over the years?
Or if you're an entrepreneur, did you get your million-dollar idea right away — or only after you worked at several different companies — and when the surrounding business environment became suitable for you to launch your own company? Or, did you make the right connections, meeting key people who could help you along your career journey?
These seven individuals demonstrate a variety of paths one can take to financial superstardom. Here's what their lives teach us.
Sheryl Sandberg
Current position: COO, Facebook
Current age: 47
Current net worth: $1.7 billion
What she was doing in her 20s: Getting her Harvard MBA. When she graduated, she was offered a job at Google — for a position which, at the time, didn't meet any of the criteria she was looking for. But she took it anyway, after talking with CEO Eric Schmidt.
As she recounted in a 2012 commencement speech to Harvard Business School grads: "... He said, 'Get on a rocket ship. When companies are growing quickly and they are having a lot of impact, careers take care of themselves. And when companies aren't growing quickly or their missions don't matter as much, that's when stagnation and politics come in. If you're offered a seat on a rocket ship, don't ask what seat. Just get on.'"
Lessons: Find someone who believes in you — and give weight to what they say as much as your gut.
Jeff Bezos
Current position: CEO, Amazon
Current age: 53
Current net worth: $88 billion
What he was in his 20s: Bezos — briefly the richest man in the world this week — actually initially worked at a failed startup in his first job out of college. He then moved on to Bankers Trust (BT), now part of Deutsche Bank. At BT, he developed software applications for pension funds. He was so good at it that the company named him a vice president. Finally, he moved on to DE Shaw, a private equity firm. But sensing opportunity with the Internet, he quit, and a few years later, in his early 30s, he founded Amazon.
Lessons: It takes a lot of experience (including of failure) and complex understanding of the world around you to come up with an idea that can change it.
Ursula Burns
Current position: Chairwoman, Xerox
Current age: 58
Current net worth: Unknown. In 2014, she made more than $18 million.
What she was doing in her 20s: Burns, who grew up in a low-income housing project on Manhattan's Lower East Side, first came to Xerox as a 22-year-old summer mechanical engineering intern "through the company's graduate engineering program for minorities," which paid for part of her Master's program at Columbia University, Encyclopedia Brittanica says. When she completed her degree a year later, she joined Xerox full-time, and has been rising through the ranks at the company ever since.
Lessons: Loyalty pays, and hard work and dedication will pay off if you stick with it — no matter your beginnings.
Tim Cook
Current position: CEO, Apple
Current age: 56
Current net worth: $785 million
What he was doing in his 20s: After graduating from Auburn University in with an industrial engineering degree, Cook joined IBM in 1982, where he stayed for 12 years, working in distribution and manufacturing. "At IBM, Tim Cook was known for his dedication, working over Christmas and New Year holidays just so that IBM could complete its orders for the year," CultofMac writes. "Within IBM, Cook was known for his geniality with his old IBM boss Richard Daugherty once saying off Cook that he had 'a manner that really caused people to enjoy working with him.'" He eventually joined Apple in 1998 after working for two other computer and electronics companies.
Lessons: Make sacrifices to show how committed you are to building a great company. And be nice!
Ginni Rometty
Current position: CEO, IBM
Current age: 59
Current net worth: Unknown. She received $4.95 million as part of IBM's incentive plan earlier this year.
What she was doing in her 20s: Rometty has been with IBM since before the age of 25. After graduating from Northwestern in 1979 with a Bachelor of Science degree in computer science and electrical engineering, she briefly worked in the General Motors Institute, "a program that rotated recent college grads through various jobs at the venerable auto manufacturer," Wired said. But that lasted just two years: In 1981, she landed her first job at IBM's Detroit office as a systems engineer. She's been with the company ever since.
Lessons: Be patient, and make sure your qualifications match your goals well.
Satya Nadella
Current position: CEO, Microsoft
Current age: 49
Current net worth: Unknown. In 2014 CNN reported Nadella had signed an $84 million pay package.
What he was doing in his 20s: Working for Microsoft. Nadella arrived in the U.S. from his native India after completing his bachelor's at age 20 to earn a two-year master's degree program in computer science at the University of Wisconsin-Milwaukee. He then went on to get an MBA at the University of Chicago. By 1992, he had been hired by Microsoft, where he "quickly became known as a leader who could span a breadth of technologies and businesses to transform some of Microsoft's biggest product offerings," according to the company. Twenty-two years later, he was named Steve Ballmer's successor.
Lessons: Even if you have a different background from many of your colleagues, you can lean on several universal values in the corporate world: intelligence, drive and the ability to master different roles.
Stephen Colbert
Current position: Host, The Late Show with Stephen Colbert
Current age: 53
Current net worth: Unknown. Colbert took home $15 million in 2016 according to Forbes.
What he was doing in his 20s: Colbert's first job at Chicago's legendary Second City comedy theatre wasn't as an actor — it was answering phones and selling T-Shirts. But as a perk of the job, he was able to take improv classes at Second City for free — and his talent immediately showed.
"He was pretty good right away," Chicago improv heavyweight Mick Napier told the Chicago Reader. "He had a vast amount of resources available to him ... and was brilliant at finding the funny of a scene or the irony of a scene or the game of a scene."
Lessons: Sometimes, just physically putting yourself where you want to be is enough to get you to where you really want to be.
In sum, one sure way of success is to try to stick around one company as long as you can — particularly if you keep rising through the ranks (tips on that here). If you're not able to hang on though, you should try to get as many experiences under your belt as possible so that you can position yourself for an amazing opportunity when it finally arises.
One tip Tom Corley, who wrote a book on success called Rich Habits - The Daily Success Habits of Wealthy Individuals, suggested? Be persistent.
"Pursue your dreams," he said in an email. "Dreams produce passion. Passion leads to persistence. Persistence eventually gives birth to serendipity, which results in success."
Sign up for the Payoff— your weekly crash course on how to live your best financial life. Additionally, for all your burning money questions, check out Mic's credit, savings, career, investing and health care hubs for more information — that pays off.