'Overwatch' Characters Fan Art: These minimalist animations of the game's heroes are adorable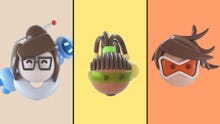 Blizzard designed the cast of Overwatch from the very beginning to be recognizable at a glance, but it's always nice to be reminded of just how iconic each character has become in such a short time.
To illustrate the strength of its character designs, animator and Overwatch fan Chris Guyot recreated a handful of the game's cast using just a Play-Doh-like representation of each character's head and a few key design elements. The whole thing is available to watch as a short video on Vimeo, but we've also embedded a few GIFs below.
It's really, really, adorable.
Overwatch character animations by Chris Guyot are adorable
"This piece is a homage to a game that I love," Guyot wrote on Vimeo. "It's also an exercise in expressing character personality within a strict set of constraints. My goal was to keep the design as simple as possible, while still communicating the unique qualities of the various characters."
"Additionally, I wanted to limit myself to just using the characters' heads in the portraits," Guyot added. "No guns allowed! ... Minus the exception of D.Va's suit ... and Bastion's gun is technically a part of his body."
We're not the only ones who like the animations, either. The post on /r/Overwatch with a link to the video has over 24,000 upvotes. A member of the Overwatch team chimed in with his own praise.
"Loved it!" Overwatch lead engineer Bill Warnecke responded on /r/Overwatch. "Looking at his webpage, [Guyot] has plenty of work, but I'll leave this here just in case!" he said, referencing a link to Blizzard's careers page. "Cheers."
More Overwatch new and updates
For more on Overwatch, check out the rest of what Mic has to offer. Here is an intro to the cute, new "Wholesome Overwatch" subreddit, a look at some gorgeous Overwatch-themed PS4 and Xbox One controllers, a cool Easter Egg in the new Horizon Lunar Colony map and a criticism of Blizzard's failures in its design of Symmetra.