Randy "Iron Stache" Bryce gets in on the New York City fundraiser game — of a different sort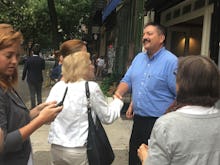 NEW YORK CITY — On Tuesday night, the man running to unseat House Speaker Paul Ryan in the 2018 midterm election held a political fundraiser in New York City. But despite the pricey zip code, this fundraiser was more $10 pints than it was $1,000 plates.
That was the scene at a small dive bar in Manhattan's East Village where union laborers, young progressives and Hollywood stars filed in to meet Randy Bryce.
"I've been just so happy to get the opportunity to get in the Republicans' face until we all have dirt floors in our house," the Wisconsinite told the crowd. "Because I'm convinced that's what they want."
Since entering the race, Bryce has become something of an icon among the left. The union ironworker and cancer survivor who goes by the name @Ironstache on Twitter — a nod to his thick black mustache — embodies the working class ethos that Democrats fear they have let slip away in recent elections. 
As progressives look ahead to 2018, Bryce's candidacy has emerged as a model for how to mount a working class fight against the Trump agenda. Bryce, who supported Bernie Sanders' 2016 presidential primary campaign, has emerged as a scion of progressive politics in the Trump era.
Bryce has run his nascent candidacy on a combination of working-class values and progressive agenda items. During his speech he openly endorsed a single-payer "Medicare for All" health care system and opening U.S. immigration policy to make it easier for childhood arrivals to attain permanent residency status in the United States.
Bryce has already earned the backing of groups like the Working Families Party, a growing national organization that supports progressive candidates for office, who recruited Bryce to run for Ryan's seat. Within days of announcing his candidacy, he earned more than $100,000 from donors around the country.
"I support Randy Bryce because it's time that we support each other to elect real people to congress," Sex and the City star Cynthia Nixon said in an interview at the event.
Tickets for the event were available for as little as $50 per person, pennies compared to the high dollar dinners some candidates hold, but a substantial amount to pay for Bryce's core base of union workers and progressive activists That didn't deter the huge following of supporters from across the spectrum who showed up to hear the working class rising star deliver his message.
"He's a union man," said Doug Collins, an Iron worker from New York state. "That's why I'm here."
Though Ryan has soared to re-election in his last several races, there are small signs of change in the district. Barack Obama won Ryan's district in 2008 and narrowly lost the district in 2012 when Ryan himself was on the presidential ticket. Trump won the district handily in 2016, but Bryce and his supporters think he can be the antidote to Democrats' losses in the blue-collar midwest.
"I'm here to see the people," Bryce said. "And Paul Ryan just looks at the money."