'Hot Mic' podcast: GOP healthcare lives, Trump is angry with Sessions, Manafort subpoenaed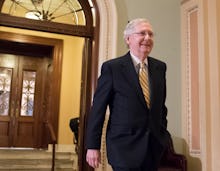 Listen and subscribe to the Hot Mic podcast from your mobile device:
Here are the important stories to know for Wednesday, July 26:
1. Senate Republicans got the votes they needed to move their health care legislation to debate.
2. President Trump is reportedly thinking about firing Jeff Sessions.
3. Paul Manafort has been subpoenaed to appear before the Senate Judiciary Committee.
Direct from Mic's newsroom, Hot Mic keeps listeners informed with a daily run-down of top stories, breaking news and analysis from our news team.