'Wolfenstein 2' DLC: In a huge series first, you'll play as a black man and a woman in the expansion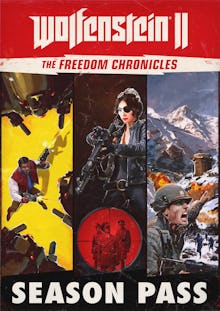 The Wolfenstein series has always been about killing Nazis, but it's also pretty much always been the story of William "B.J." Blazkowicz, a white-bread all-American soldier and secret agent. Introduced in the series' third entry, Wolfenstein 3D (1992), he's been the sole protagonist ever since, but in Wolfenstein II: The New Colossus, that's finally going to change.
Wolfenstein 2 DLC: Three new characters to play with
Wolfenstein publisher Bethesda Softworks announced on Thursday plans for a series of downloadable content expansions titled "The Freedom Chronicles." The DLC will introduce a trio of new characters, including Joseph Stallion (a black man) and female assassin Jessica Valiant.
Not only is Wolfenstein II moving beyond its single-protagonist restrictions — albeit only in a series of game expansions that cost extra — it's also injecting a strong dose of diversity into the upcoming title. That's particularly important considering the game's controversial setting: an alternate version of 1960s America where the Germans won World War II, Nazis rule the U.S. and the Klu Klux Klan walk the streets without fear or shame.
Here's a quick rundown of what to expect from the Wolfenstein II DLC, according to a press release provided by Bethesda:
The Adventures of Gunslinger Joe — As former professional quarterback Joseph Stallion, smash through Nazi hordes from the ruins of Chicago to the vastness of space!
The Diaries of Agent Silent Death — As ex-OSS agent and assassin Jessica Valiant, infiltrate Nazi bunkers in California and discover the secrets of Operation San Andreas!
The Amazing Deeds of Captain Wilkins — As the US Army's renowned hero Captain Gerald Wilkins, embark on a mission to Nazi-controlled Alaska to dismantle Operation Black Sun!
Wolfenstein 2 DLC: Release date, price and other details
You can buy all three expansions right now by picking up the season pass for an additional $24.99. Bethesda hasn't said when they'll be available, but those dates, along with "additional gameplay details," should be coming soon.
If you're still not sold, you can also gain access to "The Freedom Chronicles: Episode Zero," which introduces you to all three new characters, by pre-ordering Wolfenstein II.
More gaming news and updates
Check out the latest from Mic, like this deep dive into the cultural origins of Gamergate. Also, be sure to read this essay about what it's like to cosplay while black, a roundup of family-friendly games to play with your kids and our interview with Adi Shankar, producer of the animated Castlevania Netflix series.