Thousands evacuated in French Riviera as wildfires break out along the coast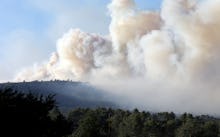 Some 10,000 people were evacuated along France's Riviera coast as wildfires spread overnight, Reuters reported on Wednesday. Of those evacuated, 3,000 were staying in campsites in the popular tourist area.
Late summer is a popular vacation time in France, and many French citizens take their holidays in late July and early August, CNN reported on Wednesday.
According to CNN, thousands had to be evacuated from the village of Bormes-les-Mimosas late Tuesday into early Wednesday as the fires threatened the area.
Fueled by high winds, the fires that prompted evacuations this week were the latest of several that have recently threatened the coastal area between Marseilles and the city of Nice in the south of France, Reuters reported.
Firefighters have been working to control the blazes from planes and helicopters, dropping water and fire retardant on the hills where the fires are spreading.
According to Reuters, summer forest fires aren't uncommon in the area, and are often started by cigarette butts.