UK bans all new diesel and gasoline cars starting in 2040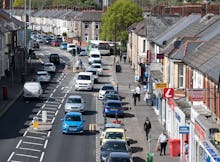 Britain will ban the sale of any new gasoline and diesel cars starting in the year 2040, the BBC reported Wednesday, as part of an effort to reduce pollution and help ensure cleaner air — and to push the auto industry toward electric and hybrid cars.
The government is set to announce the change, according to the BBC, along with plans for a fund to help local authorities curb emissions from diesel vehicles and improve air quality in highly polluted areas.
"We can't carry on with diesel and petrol cars. ... There is no alternative to embracing new technology," U.K. environment secretary Michael Gove told the BBC Wednesday, according to CNN.
Air pollution is believed to be linked to about 40,000 premature deaths a year in Britain, according to the BBC. Proponents of the new initiatives hope that fewer gasoline and diesel vehicles will lead to cleaner air and fewer greenhouse gas emissions.
However some British lawmakers said the new plans don't go far enough. Green Party MP Caroline Lucas said the urgency of environmental issues mean swifter action is necessary, according to the BBC — saying that "With nearly 40 million people living in areas with illegal levels of air pollution, action is needed now, not in 23 years' time."