Senate Health Care Bill: Here is what will happen in the coming days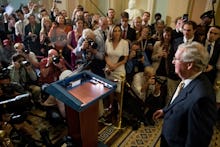 This is Mic's daily read on Donald Trump's America. Welcome to the political newsletter that is on day one of health care bill death watch.
Want to receive this as a daily email in your inbox? Subscribe here.
What we're watching:
Today: Senate Republicans barely began debate on health care reform, only to fail to advance their health care plan. Days of debate are ahead of us.
More: Opposition to repealing and replacing the Affordable Care Act is stiff.
Even more: It's not just leaks and tweets — Donald Trump is now openly fuming about Jeff Sessions.
Trump's agenda today: Participating in a "jobs announcement." Speaking to the American Legion Boys Nation and the American Legion Auxiliary Girls Nation.
Prepare for days of debate on health care
The Republicans passed their motion to begin debate on health care reform on Tuesday by one vote — a tie-breaker cast by Vice President Mike Pence. But Obamacare is far from repealed, let alone replaced.
On Wednesday night, nine Republicans and all 48 Democrats voted against the GOP leadership health care repeal plan that was unveiled last week. The revised Better Care and Reconciliation Act earmarked funds for opioid treatment and addressed high premiums, but it still cut Medicaid and would allow insurers to sell policies that did not cover pre-existing conditions.
That the bill fell so short of 50 votes was a major blow for Senate Majority Leader Mitch McConnell (R-Ky.), who is seeking to pass any legislation that can be negotiated on with the House. As Politico detailed, McConnell just barely managed to convince 50 Republicans to vote to advance to debate in the first place. And because of the way the BCRA was written, it actually required 60 votes — a nonstarter because of Democratic opposition.
This leaves McConnell with two more options: Put forward the 2015 bill that is a full repeal of the Affordable Care Act with no replacement, or propose a "skinny repeal" that eliminates taxes and mandates to purchase insurance but does not address high premiums.
The move to debate came just after Sen. John McCain (R-Ariz.) appeared on the Senate floor to applause from his colleagues. He called on the Senate to "return to regular order" and strive for bipartisanship — something senators told Mic will be difficult.
The GOP will reconvene the Senate at 9:30 a.m. on Wednesday morning for further debate. That will be followed by many hours, if not days, of voting on amendments proposed by senators from both parties. Read Mic's explainer of how it will all go down. The Senate could be done with debate and amendments by the end of the week.
How are people opposing this?
Democrats and activists are not letting the legislation advance quietly. Democratic senators vowed to use every legislative trick available to delay or stall the repeal effort.
On Tuesday, as Republicans barely passed their motion to debate, activists from ADAPT and NICL, two national disability rights groups, began a sit-in in the lobby of a Senate office building.
Progressive groups like Our Revolution and CREDO promised to continue online and in-person organizing against any health care repeal effort. Planned Parenthood is organizing a rally near Capitol Hill on Wednesday afternoon, while Our Lives on the Line marches in cities across the country are planned for Saturday evening.
An organizer for Our Lives on the Line told Mic it has put together 125 events in 36 states for the Saturday day of action, with House Minority Leader Nancy Pelosi scheduled to speak at the Washington event.
"I'm disappointed in the attorney general"
"We'll see what happens," Trump said during a press conference in the White House Rose Garden when asked if he would fire Attorney General Jeff Sessions.
Trump has made no secret of his disappointment in Sessions, but Sessions' chief of staff told the Washington Post the attorney general does not intend to step down.
News and insight you cannot miss:
A White House staffer resigned for alleged involvement in administration leaks, an offense which new White House communications director Anthony Scaramucci said he would be cracking down on.
Jeff Flake is positioning himself to run as the anti-Trump Senate candidate in 2018.
The House overwhelmingly passed a bill that would diminish Trump's ability to roll back sanctions on Russia. The Senate is expected to easily pass the measure. Trump may veto the legislation, but his veto could be overridden.
The 29 most cringe-worthy lines from Trump's hyper-political speech to Boy Scouts — which was supposed to be nonpartisan.
Correction: July 26, 2017