Designer Phillip Lim slams 'Interview' editorial for reinforcing problematic Asian stereotypes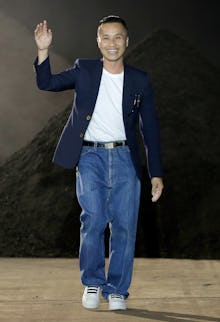 It was just a few months ago when Vogue landed in hot water for a photo spread featuring white model Karlie Kloss mimicking some of the most stereotypical aspects of Japanese culture. She dressed as a geisha, for instance, and posed next to a Sumo wrestler.
But despite that controversy, which Kloss ended up apologizing for, it seems the fashion industry still hasn't gotten the memo that appropriating and mimicking Asian cultures isn't such a good idea, as evidenced by a recent editorial shoot in Interview magazine by photographer Billy Kidd.
In the spread, a model appears to be walking through Chinatown in New York City, wearing a Chanel-branded conical hat and carrying a stick with Chanel bags hanging off of it. The editorial itself is titled "Coco Served Hot," which could be a nod to the illegal or "hot" counterfeit goods sold in that neighborhood, like fake designer bags.
Many different voices have weighed in on this spread already, noting that it's clearly perpetuating a number of stereotypes for Asian people, and loudest among them is designer Phillip Lim, himself a native of Thailand.
After Kidd posted the images on his Instagram, Lim wrote at length about why the images are offensive. "These images reinforce several stereotypes that asian immigrants/communities work so hard to break from," Lim wrote, before listing the stereotypes exactly. "1) hawking counterfeit goods 2) It mocks the actual everyday struggle of immigrants trying to do what they can to survive in a country foreign to them. 3) Mainland Chinese workers (unless they are rural farmers in fields or objectified in type cast films) actually don't live like this — this is just to start — please have a moment to reflect."
Kidd attempted to defend his photoshoot by claiming: "My intentions for this shoot are definitely not to perpetuate a negative view of Asians but intended to be an homage to the working class Chinese which was what inspired me. Obviously it did not translate that way for you and others, my apologies for any offense. However, I love this image and still see it as an homage."
To that, Lim said that although his intentions might have been sincere, "It's important that you hear why a picture like this is insensitive to Asian communities. You are are very talented and have such a powerful platform in what you do, and unfortunately an image like this continues to reinforce a stereotype in our communities." He then invited Kidd, who is white, to hear some of the stories Asian and Asian-Americans have in which they are bullied as a result of these stereotypes.
Other than Lim, photographer Mark Gong, who's worked with Vogue, Elle and the New York Times, also wrote to Kidd at length about what these sorts of images do. "As a first generation Asian-American, these were the stereotypes I've had to deal with my whole life," he wrote. "Nothing about the image gives me a sense of paying tribute or honoring their hard work. Quite the opposite, it boils down their struggle into a caricature for the sake [of] selling clothing. Looking at this image brought back painful memories and reminded me just how much further we have to go."
Kidd remains unflinching in his defense however, telling Refinery29: "I don't want to be insensitive to Phillip and Mark and some people's opinions but at the same time, at what point do we allow our inspirations to be pushed away? When do we stop allowing the things that we find beautiful to be covered up and not allowed to talk about?"
Mic has reached out to Kidd and Lim for further comment.