Copenhagen's neighborhood of the moment is Kødbyen, a working meatpacking district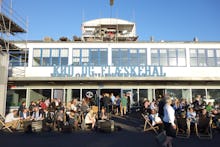 Over the past few years, Copenhagen's Meatpacking District, known to locals as "Kødbyen," has become a hub for nightlife, galleries and restaurants. But unlike the meatpacking district in New York City after which Kødbyen was modeled, Copenhagen's grittier neighborhood is still home to butcheries and slaughterhouses.
I've been told Kødbyen finds its groove in evenings and on weekends, but I've also heard there's a cafe that brews the best morning cup in town. When I strolled into Prolog Coffee Bar. I saw two Danes clad in black jeans and sneakers having a chat over cortados brewed from sustainable beans — a daytime glimpse of Kødbyen's trendy side.
But other than the chic cafe, mornings don't accurately portray the neighborhood's appeal. The buildings, which have hardly changed because of city regulations, look almost exactly like the butcheries and slaughterhouses they all once were. A few chefs were smoking cigarettes outside a closed restaurant, the door to a deli left barely ajar; "Come back for lunch in an hour," a genial man told me.
Ten years ago, the government-owned buildings were working slaughterhouses and butcheries. But today, roughly 90% of the area is no longer a functioning meatpacking district. A combination of the global financial crisis and local rent increases drove the butcheries out of the city center, so the government began leasing the empty warehouse spaces to restaurants and galleries.
Pioneering the area's development was Kødbyens Fiskebar, an acclaimed, informal seafood restaurant opened by former Noma sommelier Anders Selmer in 2009.
"I had a good feeling about it because the location is so close to the center of Copenhagen. When we first opened, there were a couple of bars and galleries but mostly empty spaces. Now, it's full of life," Selmer said in an interview. The success of the restaurant encouraged other venues to take up occupancy, and over the past few years, the area has grown into a creative hub — with galleries such Gether Contemporary, which presents young talent, and V1 Gallery, an all-media gallery which showcases both emerging and established artists.
Today, some of Copenhagen's best restaurants have popped up on these streets, and gourmet superstars including the Mediterranean-rooted Gorilla, the organic and seasonal-driven Spisehuset, the country-style kitchen Paté (housed in a former liver paté factory) and the grill-focused KUL.
"The history of the meatpacking district is so unique to Copenhagen," Lotte Sirdorf, restaurant manager of KUL, a restaurant housed in a former butcher shop, said in an interview. "The feel of the old butcher shops – the interior and the facades of the building — gives it a modern a twist."
"The thing about Kødbyen is that you have this mix of old factory or slaughterhouse buildings with upcoming companies and restaurants in an area without housing and traffic," chef Torsten Andersen said. Andersen owns Spisehuset, a small biodynamic restaurant in the older part of the district.
Though there are several working butcheries down the street, most restaurants still source their protein from farms that are farther away. "There aren't that many butchers left here, and none of them deal in organic meat, so we get ours directly from the farms we work with," Andersen said.
On weekends, the Kødbyens Mad & Marked attracts locals; its main parking lot floods with vendors and food trucks selling everything from gin to cheese, bread and street food. "[On weekends], it's definitely lively with all sorts of food and beverages, it's also great for hanging out and dancing," Rosio Sanchez, chef and owner of district taqueria Hija de Sanchez, said.
After leaving Noma, Sanchez, who is Mexican-American, followed her craving for Mexican cuisine and opened her own taqueria. She now has two locations; the second one, which opened in April 2016, is in Kødbyen.
Another street-food favorite is John's Hotdog Deli, which has become the buzziest hot dog joint in the city. "John is a rock'n'roll sausage pusher who started his business in an old sausage wagon," Stephen Haar of the Food Organization of Denmark said. "He was selling good sausages way before the hipsters did."
The meat is first-rate and hot dog additions include miso mayonnaise and beer-infused mustard. "In between all the experimental hot dogs, you can also get the ordinary sausages and buns," Haar said.
When all the butchers have gone home and the young ones are tucked into bed, Kødbyen's unruly nightlife scene kicks into gear. Jolene, a rowdy bar with a bright neon-pink sign, has Danish DJs spinning their decks until the early hours of the morning. As does Bakken, a trendy dive bar and nightclub that hosts regular DJ acts. Club-goers who party until sunrise may even cross paths with a butchery employee on their way to work.