First out trans soldier on military ban: Trump is a "war-dodger" who has "no connection to reality"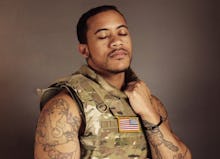 After President Donald Trump's announcement on Wednesday morning that he would ban transgender soldiers from serving in the United States military, retired Army Sgt. Shane Ortega — the first out trans soldier to serve in the U.S. military — pulled no punches in criticizing the commander-in-chief as a "war-dodger" with "no connection to reality."
"To be quite frank, my first thought was, 'Fuck!'" Ortega said in a phone interview. "Trump is a man who is literally a war-dodger, who comes from a life of privilege and silver spoon, who has no connection to reality whatsoever, and I don't know how much more the American public needs to see that."
Citing the eight years Ortega said he spent fighting for the rights of his fellow transgender soldiers — with accomplishments that include co-founding a chapter of a nonprofit that focuses on serving the specific needs of transgender military personnel in active service — the veteran asked: "What more will it take for people in this country to become really outraged?"
Ortega's scathing characterization of the president as a privileged war-dodger is a reference to five deferments Trump received from the military draft for the Vietnam War — four for education, and one for a bad foot. In a 1997 appearance on Howard Stern, Trump told the shock jock that sexually transmitted diseases were his own "personal Vietnam," and that he felt "like a great and very brave soldier" for not contracting any STIs as a promiscuous bachelor.
Trump's decision Wednesday to strip trans soldiers of their right to serve in the military is the president's latest reversal of an Obama-era policy. In 2016, the Pentagon lifted its ban on service from trans soldiers like Ortega. According to a study cited by the Pentagon that year, the Department of Defense's decision to lift the ban on transgender soldiers would affect up to 11,000 in active duty. A study from the RAND Institute found that the number of trans men and women in active duty was between 1,320 and 6,630 soldiers; a 2014 study from the Williams Institute found that around 150,000 trans people have served in the U.S. armed forces.
Trump cited "tremendous medical costs" in his decision to reinstate the ban.
"After consultation with my generals and military experts, please be advised that the United States government will not accept or allow transgender individuals to serve in any capacity in the U.S. military," Trump tweeted. "Our military must be focused on decisive and overwhelming victory and cannot be burdened with the tremendous medical costs and disruption that transgender in the military would entail. Thank you."
Former Sgt. Ortega served as a helicopter crew chief in the Army's 25th Division. Since retiring from service, he has joined the board of 41percent, an organization that "addresses the 41% of total adult transgender people who commit and attempt suicide."