How a 19th-century butcher shop became a home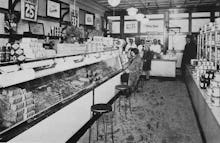 Chicago's 18th Street corridor is a cacophony of urbanness. Honking cars clank alongside the roar of Pink Line L trains; groups of neighborhood kids kick soccer balls against the sounds of cumbia; the smells of taquerias and pastelerias waft through the air.
The block is the heart of Chicago's Pilsen neighborhood, a predominantly Mexican-American enclave on the city's Near West Side. Its low-rise, high-density character, composed of one of the largest collections of late 19th- and early 20th-century Germanic architecture in the Midwest, makes it a destination not only for arriving immigrants but also for first-time homebuyers looking for accessible and affordable entry points to the housing market.
The neighborhood's distinct sense of place is what lead Bart and Miranda Winters to purchase a mixed-used building there in 2013, in what had been an 18th Street butcher shop. In their early 30s and just married at the time, the couple had previously rented elsewhere in the neighborhood, where they helped run a collaborative art gallery space, so they had a good idea of what they were seeking in their first home.
"We knew we wanted to stay in the Pilsen area, somewhere close to the Pink Line if possible," Bart Winters, who works as an engineer at the city's Millennium Park, said. "We also knew that the art/show space collective that we'd been a part of would not be around much longer, so we also decided to look for homes that might have a storefront component or large basement in order to start a new space."
The Winters began their search like many do: scouring online real estate sites. But they picked up steam when they changed tactics. "We did not get serious until we began working with a real estate agent," Winters said. Through the referral of a friend, the couple ended up working with a local agent who also happened to have a background in historic preservation.
The couple connected with a mortgage broker to assess their financial limitations and provide them with a prequalification letter to help hasten — and narrow — the search to only applicable properties. "Our price range assured that we would definitely have to purchase a 'fixer-upper' if we wanted to be near transportation and also have a storefront or large basement," Winters said. They went to check out homes a few times a week with their real estate agent before finding a winner.
That winning fixer-upper was the two-story, beige-brick building with a former life. "The building was kind of a time capsule," Winters said. "The second floor had not been touched since the 1950s. The butcher shop itself had been closed since the 1980s and had not been remodeled since the 1950s. There is a large walk-in cooler built by the Broman Bros. in the early 1900s that is wonderful."
The homeowner is matter-of-fact about the lift required to rehab a building with such heavy history. "The fact that it had functioned as a butcher shop from the late 1800s until the early 1980s — was [and] is fascinating to me. However, in truth, that was more of a bonus to us than a major factor in why we bought this specific property," he said. "It's hard to imagine the place not having the particular historical aesthetics that it does, but our criteria was just a building near the Pink Line with retail space, and it fit our price range."
The historic nature of the property and its need for repair qualified the purchase for a home rehabilitation loan through the Federal Housing Administration. The FHA 203(k) program allows buyers to bundle renovation costs into a mortgage. The Winters' real estate agent's experience with historic preservation helped them stay aware of the different financing options available for a rehab.
The agent also informed the couple of possible tax-credit incentives for historic rehabs available from the Illinois Historic Preservation Agency. Ed Cross — the director of communications for the Illinois Department of Natural Resources, where the IHPA resides — pointed to the agency's Property Tax Assessment Freeze initiative that allows a freeze for eight years on historically significant, owner-occupied residences that are rehabilitated according to IHPA guidelines. The freeze is followed by a four-year period in which the property gradually resets to market rate.
With financing from FHA in place, the couple went about translating their ideas for the space into reality. "We were able to secure a $60,000 renovation loan [through FHA] and decided we would use the bulk of that money to fix up the second floor, in order to make it rentable," Winters said. They knocked down walls on the second floor to expand its footprint, as it had previously been divided into tiny bathroom-less flats. On the first floor, they removed the original tiling, which was made of asbestos and starting to deteriorate. "Our goal was, and continues to be, to incorporate as much of the original aesthetics of the building as possible, while still being safe and somewhat affordable," he said.  
One condition of the program is that it stipulates which contractors you work with. They tackled much of the restoration work themselves, working with friends and family for smaller-scale fixes that did not have to be completed by FHA-approved subcontractors. And since the rehab was completed within the IHPA guidelines for restoration, additional tax credits are coming their way.
"We [enjoy] watching the expression on people's faces when they walk into the storefront and are able to appreciate the historical aesthetics of the place for the first time," says Winters. "There's definitely a certain sense of pride. Everything in Pilsen is changing so quickly. We kind of feel like we are stewards of the past."