'Dragon Ball FighterZ' Beta: Sign-ups for the closed beta delayed until August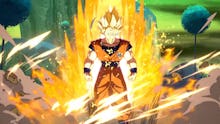 Dragon Ball FighterZ could go a long way towards bridging the gap between casual fighting game fans and hardcore enthusiasts when it launches in early 2018. We'll get a chance to try it early with a closed beta in the near future, but unfortunately, it won't be quite as near as it was supposed to be.
Dragon Ball FighterZ closed beta sign-ups delayed to Aug. 22
Sign-ups for the closed beta were supposed to start July 26 (which is today, in case you forgot), but according to IGN, that has been delayed nearly a month, to Aug. 22. According to a statement from Bandai Namco, this is a way to let more people in than originally planned when the beta runs from Sept. 16 to 18.
We recently announced at EVO 2017 that the closed beta sign-ups for DRAGON BALL FighterZ would begin on July 26; due to the volume of excitement and enthusiasm surrounding this announcement, we have decided to expand the capacity of the closed beta in an effort to enable more players to participate in the program.
We are also working to bolster our background systems to ensure that the closed beta registration and selection process can accept the volume of anticipated sign-ups. However, these efforts will necessitate a slight delay for the closed beta sign-up date, which will move to Aug. 22, with the official start of the DRAGON BALL FighterZ Closed Beta officially commencing from September 16 to 18.
So it's soon, but not quite as soon as it could have been. Oh well. Set your calendars to Aug. 22 and throw your hat in the ring when the time is right.
More gaming news and updates
Check out the latest from Mic, like this deep dive into the cultural origins of Gamergate. Also, be sure to read this essay about what it's like to cosplay while black, a roundup of family-friendly games to play with your kids and our interview with Adi Shankar, producer of the animated Castlevania Netflix series.