'Destiny 2' clan migration starts soon: Here's what you need to know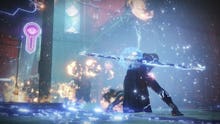 The Destiny 2 beta is over — unless you're a PC player — which means it's time to start getting your affairs in order before the game launches for real. If you have a clan in Destiny (organized through Bungie.net), you can migrate it to Destiny 2. That was supposed to happen July 25, but it's been delayed slightly.
Destiny 2 clan migration set back a day
According to the @BungieHelp Twitter account, clan migration has been pushed back a day to July 26.
According to Game Rant, it'll kick off with a blog post on Bungie.net explaining the process. That hasn't happened yet at the time of writing, but make sure to periodically check that site throughout the day if you really need to transfer your clan to the new game.
More Destiny 2 news and updates
If you can't wait to get back out on patrol with your Fireteam, check out the rest of our coverage for Destiny 2. We've got coverage about why Bungie opted not to use dedicated servers for the sequel, why there won't be cross-play and cross-saves for PC and what you can expect from the game's PC specs and Battle.net partnership. Additionally, you can check out the new Supers being added to the game, some details behind guided games and the new Crucible changes as well. Finally, you can check out our ongoing coverage of the beta here.