Rick Ross won't sign women rappers because he's afraid he'll sleep with them. That's a problem.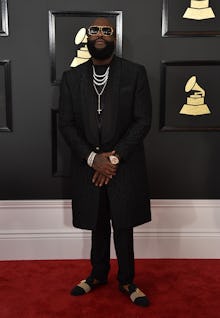 Rick Ross is a hot mess.
Mr. "Put Molly all in her champagne, she ain't even know it" was recently asked by Angela Yee on Power 105.1's The Breakfast Club why he hasn't signed any female rappers. His response was illuminating:
You know, I never did it because I always thought, like, I would end up fucking a female rapper and fucking the business up. ... I'm so focused on my business. I gotta be honest with you. You know, she looking good. I'm spending so much money on her photo shoots. I gotta fuck her couple times.
He starts talking about women around eight minutes into the interview:
For Ross, spending money on women justifies having sex with them, too. Yee pushed back, bringing up examples of young women who Ross doesn't have "that energy" with who are talented — would he sign them (or at least not try to sleep with them)? "Most definitely," Ross said.
But, for our benefit, he clarified what he meant: if he signed Yee, he'd have to "you know." Oh, we know.
Yee holds down the interview (he hits on her at a few other points, asking to see her legs repeatedly), but Ross' harassing tactics aside, he inadvertently spoke to a much larger dynamic that has hurt women rappers trying to make it in the industry: They are routinely sexualized and judged on their appearance, rather than their rap abilities.
It's easy to dismiss Ross' comments as a joke, but as Brooklyn-based emcee Nitty Scott said in an email, ignoring Ross isn't good enough because he is "quite literally articulating and embodying the dominant mentality being imposed on female artists regularly."
"It's not a Rick Ross problem, but more about normalized exploitation and abuse of women within the music industry," Scott added.
Nicki Minaj, who has worked with Ross, called out the double standards women in the industry face back in 2010 in a video posted on YouTube. The whole video (posted independently by someone in her crew) is worth a watch, as most of it is her talking about the professional repercussions for women who are perceived as "bossy." But two minutes in she hits on the unfair standards women face, not only in hip-hop, but in entertainment and work in general:
But when you're a girl, you have to be like … everything. You have to be – you have to be dope at what you do, but you have to be super sweet and you have to be sexy and you have to be this and you have to be that and you have to be nice and you have to … It's like, I can't be all those things at once.
Minaj would know. She is, after all, one of the last remaining women emcees signed to a major label. Since the '90s, there are far less women rappers that have achieved mainstream success. Back then, you had Salt-n-Pepa, Foxy Brown, Rah Digga, Da Brat, Remy Ma, Lil' Kim, Lauryn Hill — many signed to major labels, many with huge hits. Today, female emcees are still making music, but it can be harder to find them in popular music.
Scott says this is because, as a woman in the industry, you often have to "navigate in the face of a 'boys club' everywhere you go, coupled with strict ideas of what women are expected to do or be for access into certain spaces and conversations" in hip-hop.
Perhaps it is attitudes like Ross' that are keeping women out. After all, The Breakfast Club is a popular nationally syndicated show, and while Ross was making his comments, Charlamagne tha God, a well-known person in the hip-hop industry, was chuckling along with him.
Rather than ask, as many journalists have, "where have all the female rappers gone?" we'd be better off looking at the evolution of the rap industry. As rap became more corporate and less independent in the last 40 years, so did the rise of certain characterizations of both black masculinity and women's representation — from gangsta rap to video vixens — catering to an audience hungry for these images. Ross is practically the ne plus ultra of the genre.
It is, of course, unfair to blame sexism in the industry solely on hip-hop, as Tricia Rose wrote back in 1993 in her groundbreaking book Black Noise. Sexism in rap simply mimics the sexism that "dominates the corporate culture of the music business".
That said, Ross' comments matter because women are still sexualized, in rap, in the media and in their workplace, where men sometimes have the power to exploit their ambitions. The chilling details of R. Kelly's alleged sex cult, Bill O'Reilly's fall or Bill Cosby's sexual assault allegations all demonstrate that men are still gatekeepers in the entertainment industry. That dynamic opens up the potential for women to face abuse at the hands of these men. Even in a time when women have access to more entertainment and culture than ever before, there are still people at the top who believe that the only place a woman has in the entertainment industry is to serve the sexual desires of men.
The impact of that belief is simple: Young women are blocked from reaching their full creative potential. But Scott's advice to young women entering the rap game is to "stick to your guns."
"We'd have no Missy Elliott if she'd listened to those who told her to hang it up for not being 'conventionally attractive' ... there'd be no Lil Kim if she'd believed that being hardcore sexual made her less respectable ... there'd be no Lauryn Hill if she accepted that people weren't 'ready' for her message."
Women should be able to access anything they want without having to sleep with someone for it — including a major label rap deal.