In the shadow of Brooklyn's luxury apartments, "canners" form a tight-knit community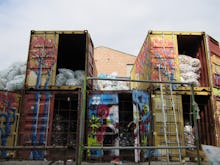 When 23-year-old Trinidad Raffael hits the streets, he usually brings a bag with him. Other days, it's a shopping cart. But on this day, he's towing an industrial-sized rolling garbage bin — and it's full to the brim with aluminum cans and plastic bottles.
Trinidad's family owns Sun Azteca, a Mexican restaurant in Brooklyn's Bushwick neighborhood, and on the days when he wheels his empty plastic bin over to the family business, he knows that he'll wheel it away filled with a sticky bounty of empty containers, collected from the previous night's customers. From there, Trinidad will cart the empties to the bottle redemption station outside of the Key Foods supermarket less than a block away, and exchange the recyclables for cash.
"Today, with that thing," he says, gesturing towards the large green bin that's easily holding upwards of 200 containers, "I'll usually make around $11."
Trinidad, like his mother before him, is a "canner" — one of the thousands of New York City residents who scour residential trash cans in the shadow of high-rise condos and million dollar apartment complexes in the hopes of finding abandoned bottles or cans to redeem for 5 cents apiece.
Despite facing some of the biggest challenges New York has to offer — including increasing class stratification, gentrification and a shortage of low-wage jobs — the canner community is close-knit and proud.
"Usually when you come to places like this," Trinidad says, referring to the bottle redemption station behind him, "you'll see some smiles, and people will talk to you. You see them frequently, so you become friends here and there. Usually, it's the same people collecting."
New York's Bottle Bill
In 1982, New York state passed the Returnable Container Act, which tacked a 5-cent deposit onto the sale of all carbonated soft drinks, water, beer and other malt beverages sold in sealed glass, metal, aluminum, steel or plastic containers. When you buy a bottle of beer at the bar, you're unknowingly putting down that 5-cent deposit — and you can get it back, so long as you save the container and return it to the distributor when you're finished with it.
Few people know about the nickel they unknowingly cough up with the purchase of any bottle of Poland Spring as a result of what's colloquially known as the "bottle bill," and even fewer are willing to haul their empties off to the city's designated redemption centers to retrieve it. But one man's trash, as they say, is another man's treasure, and for canners like Trinidad, the nickels can add up to some welcome extra cash.
"Usually at the house — I go to BJ's, so when I buy in bulk, instead of just throwing [the cans and bottles] out, I usually just throw them in the cart and bring them over here," Trinidad says.
For some, like Trinidad, the money earned from redeeming bottles is a supplement to another source of income. But for other members of the community — particularly undocumented ones — canning can be a safe and legal way to earn a living.
Sure We Can
Like a garbage can with a few empty glass bottles rattling around in its depths, the labyrinthine lot of Sure We Can — Brooklyn's only nonprofit redemption center — is full of unexpected surprises.
Chickens peck around near the facility's newly-established greenhouse in the back of the lot; nearby, a compost station sits, ready and waiting for volunteers to turn abandoned food scraps and coffee grounds into fertilizer for community residents and their gardens. The mood among those camped at the sorting stations scattered around the property is familial, and canners joke and laugh with each other as they comb through recyclables.
At Sure We Can, canners have the opportunity to make even more money by doing the sorting that's necessary before the containers are ready to be picked up by the individual distributors. The facility moves an estimated 30,000 to 50,000 units a day — a staggering number, when you consider that all of the bottles and cans have been retrieved from the short, walkable radius surrounding the redemption center.
Sure We Can's executive director Agustina Besada said in an interview that creating a shared space for canners to come together has done more than help to bolster the community financially — its elevated it socially, as well.
"The social aspect — that's enormous, because you're empowering a community," Besada said. "We are legally spreading money in a community that doesn't have a lot of resources; for us, that's very very important, just having them here, getting together as a community and giving them support. That's our mission."
By Besada's estimate, the Sure We Can community is comprised of about 500 members. Of those, she says, roughly 40% are Hispanic, 30% are Asian and the rest are smaller groups of African-Americans and Polish immigrants.
For Trinidad, who sometimes stops by Sure We Can just to laugh and chat with other members of the community, the social aspect of canning is also woven into his early morning sessions trawling his Brooklyn neighborhood for recyclables.
"I have a friend who I do it with, because going by yourself sometimes is like going to the gym — you've got to push yourself to go," he said. "When you have a friend, it's a little easier — I mean, she collects for her and I collect for me, but we go together."
"The most competitive city in the world"
For a population of canners already beset by a number of disadvantages, including, in many cases, not being native English speakers, living in New York tacks on an additional layer of challenges.
According to David Dyssegaard Kallick, director of the Immigration Research Initiative at New York's Fiscal Policy Institute, although the city's economy is much improved from the recession of 2008, the number of "good jobs" offering room for growth are still in short supply.
"New York City has this extraordinarily polarized economy, so that you have in fact, at the moment, a relatively decent number of jobs, but they're very divided between low-wage jobs that don't have a whole lot of possibility for advancement and high-wage jobs that are few and far between," Kallick said in an interview.
For immigrants — a group that comprises 37% of New York City's population, half of its labor force and more than half of its business owners — the high levels of competition for those low-wage jobs can be a major barrier to entry, particularly for those who don't speak English, Kallick said.
"You have this very diverse and robust economy among immigrants where I think there are opportunities for people to work even if they don't speak English well, but of course, as anywhere, your chances for getting a job are much more limited if you don't speak good English," he said.
Besada agrees.
"How I see it — [New York] is the most competitive city in the world," she said. "A lot of [canners] don't have other opportunities, either because they don't speak English or they don't have the network — they don't know how to get a different type of job."
Many of them, she added, are mothers who need the flexibility that canning affords them in order to bring their children to school or to the doctor.
"Most jobs won't allow them to have that flexibility," she said. "So this gives them that."
Brooklyn's immigrant populations aren't the only ones struggling to keep up with an ever-changing cityscape. For Sure We Can, a rapidly gentrifying Brooklyn means that the landlords who rent out the facility are looking to sell — and maybe sooner rather than later.
Once upon a time, the center operated in Manhattan, but skyrocketing rent prices quickly pushed it out of the city. Now nestled on a cozy corner of industrial East Williamsburg, the center is once again facing the imminent threat of being priced out of its coveted location.
"Our dream would be to get some funds and be able to buy [the lot] and create a community land trust, so that it belongs to the community and not Sure We Can — Sure We Can would be a tenant," Besada said. "So the idea is that this place would remain for the community."
That sense of community, Besada said, is the center's raison d'être — and without it, she fears that the feeling of purpose and togetherness she and others have worked so hard to cultivate will disappear.
"All our people walk," she said. "It's what they do. They walk around, and they live around here. If we move further away, we would lose the community and we won't be able to serve them anymore. So it's really a huge problem that we have right now."
For now, though, Brooklyn's only nonprofit redemption center is still safe, and still fueled by the same sense of community it was founded to cultivate.
After Besada's recent wedding, she says, the Sure We Can community celebrated her and her new husband family style, with food and music in the middle of the same facility that brought them all together.
"We cleared a space right here," she says, gesturing to a muddy corner of the enclosure, "and we danced the bachata."