Where Giada De Laurentiis shops in Rome for fancy pastas and little trinkets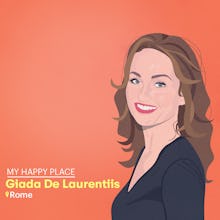 In My Happy Place, we talk to some of our favorite people about their emotional connection with an unforgettable destination.
A household name when it comes to all things Italian cooking, Food Network personality Giada De Laurentiis may be America's most popular pasta expert. The host of Everyday Italian and Giada at Home has demystified Italian cuisine for millions of Americans. She's taught us how to pronounce "mascarpone," how to transform jars of sauce into excellent homemade-style Italian soups and more.
Mic spoke with De Laurentiis in July in New York, before she demonstrated how to make four-cheese ravioli using new cooking tools and jarred sauces she created in collaboration with Williams Sonoma. Here's where De Laurentiis shops when she's in the ravioli homeland.
"In Italy, it gets a little tricky because I can't bring a lot of stuff through customs, unless I smuggle it in... [On Italy trips,] I look more for inspiration and I'll go [out] to eat for ideas."
"Instead of bringing back ingredients, I look for tools, all sorts of fun tools like bowls and spoons. I love little spoons and little knives and little forks. I collect them."
"There's an antique store in Rome that I love, Antichità Luciano Prili (Via dei Banchi Nuovi 26-27). I go each time I'm in Rome. The gentleman who owns it is about 80 years old and he knows I love little things, so he saves items he finds for me and sometimes will send me pictures and then I go there and I get them."
"I also bring back pasta shapes that are unique to Italy that I can't find in the States. I like fusilli con buco, a long, circular pasta noodle, with a hole in the center. It's great with meat sauces, which my daughter, Jade, really likes. In Italy they also have different shaped bell pastas, which I love."
"The farmers market in Campo de' Fiori, Rome, has really fun pasta shapes. Sometimes I do the tourist thing, as my family calls it, and buy pastas in different colors, because my daughter thinks they're fun. They're really great in the summer in pasta salads – the colors just make the pasta salad shine in a way that regular pasta won't."
"Back at home [in California], my favorite place to cook is my own kitchen and my favorite place to shop for ingredients is a combo of the farmers market, my local grocery store and online. I like [Italian food importer] Buon Italia, which only has a store in New York. I shop from them and they send me curated boxes of things I can't find anywhere else, certain pastas and stuff like that."