'Overwatch' Patch Notes: Doomfist, new loot box system and more live in new update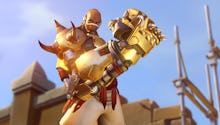 Blizzard has officially released the newest Overwatch character, Doomfist, across all platforms. For a full roundup of all his abilities, check out our write-up from when he was first revealed here.
In order to play the new hero, you'll need to download the new patch, which also introduces a much more generous drop rate from loot boxes, a new highlights system and some important balance updates for several heroes, like McCree, Zarya and Reinhardt.
Blizzard announced that the new update was live through a short trailer on the Overwatch Twitter account:
The full patch notes from Blizzard's site are embedded below.
Overwatch Patch Notes
PATCH HIGHLIGHTS
This story is developing.
More Overwatch news and updates
For more on Overwatch, check out the rest of what Mic has to offer. Here is an intro to the cute, new "Wholesome Overwatch" subreddit, a look at some gorgeous Overwatch-themed PS4 and Xbox One controllers, a cool Easter Egg in the new Horizon Lunar Colony map and a criticism of Blizzard's failures in its design of Symmetra.