'NHL 18' Beta Codes: I played the free demo and so far it's pretty good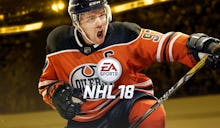 EA Sports released a fleet of download codes for their beta demo of NHL 18, and I had an opportunity to play it on Tuesday. Despite limited success in online head-to-head matches, I came away impressed with the gameplay, feature set and soundtrack.
Here are some early impressions of NHL 18, which seems like a solid entry in the series based on my experiences so far.
NHL 18 beta: What does it include?
As demos go, it's pretty full. You can play the new arcade-style, three-on-three game called Threes. You can also play EA Sports Hockey League.
In that mode, you team up with human players to take on others online.
Lastly, there is online versus, which is a standard way to play random opponents online. All of the NHL teams are playable, including the All-Star squads, with exception of the expansion Vegas Golden Knights.
I should also mention the music. Traditionally, the music wouldn't stand out in a beta, but this soundtrack is noteworthy. It captures the new faster-paced action of the gameplay.
NHL 18 beta: Graphics haven't changed much, but that's okay
Visually, NHL 18 doesn't appear to have made a major leap from NHL 17. That's understandable, and not overly concerning, considering last year's game was already beautiful.
Sports gamers would be wise not to expect a leap in graphics and animations until the next generation of consoles are released, and we're talking even beyond the Xbox One X.
NHL 18 beta: New control options make a real difference
The real qualities in the NHL 18 beta lie in the new control options for puck handlers and the deep feature set. The development team has clearly worked to open up the offensive gameplay, and there are now a variety of situational moves that you can execute to free yourself from a defender and to gain a clearer path to a goal.
I'm not the best player, so it'll take me a while before I'm able to pull off some of the dekes like toe drags and between-the-leg moves regularly, but I can at least see the scenarios where those moves would be useful.
On the defensive side, the skill stick has been tuned to give players more weapons to combat the highly skilled offensive threats. This is the most intuitive poke checks have been in all my years of playing the NHL series.
The risk-reward factor is apparent here. You can successfully dislodge the puck, get a tripping penalty or be burned by a gamer or A.I. that is quick enough to take advantage of your gamble.
Yes, the A.I. plays almost as loose as a human opponent. I saw a few of the new dekes from the most skilled players under computer control in Threes, and it is my understanding that this will be the case in franchise mode and exhibition play against the A.I. in the full version.
NHL 18 beta: Everything else
The beta also gives us a glimpse of the modes of play that will be available. Threes is a blast that could turn out to be the most playable arcade version of a simulation sport.
We saw MLB The Show attempt a similar concept with its Retro Mode and NBA Playgrounds is along the same lines for basketball, but Threes has just the right mix of real hockey and arcade action.
EASHL is already a huge favorite with the series' fans and the ability to play almost every mode in co-op, versus or against the computer offers a level of functionality that doesn't really exist in any other sports video game series.
The NHL series has long been one of EA Sports' most consistent franchises and it looks as if that trend will continue.
NHL 18 releases for the PlayStation 4 and Xbox One on a very busy Sept. 15 that will also feature the early-access release of NBA 2K18. Fans who pre-order NHL 18 can play on Sept. 12, and Xbox fans who subscribe to EA Access can play on Sept. 7.
More sports gaming news and updates
Love sports games? Check out more content from Mic, including tips for leveling up your NBA 2K17 MyPlayer, playing quarterback in Madden 17, our review of MLB The Show 17 and the classic Nintendo sports games we want to see on the Switch.