Trump will visit Long Island to discuss gang violence — but some fear he could make the issue worse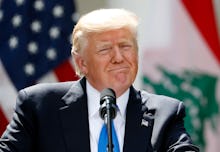 President Donald Trump will visit Long Island, New York, on Friday, where he reportedly plans to speak about gang violence, specifically MS-13, a gang that has grown in visibility and notoriety in recent years in Long Island's Suffolk County.
"MS-13 is why he's coming," Republican New York Congressman Peter King said of Trump's upcoming visit, according to Long Island's Newsday newspaper. "It's why he picked this location."
However some local activists worry that if Trump's comments on Friday are similar to what he's said about gang violence in the past, he could make the problems on Long Island worse, not better, with his visit.
"We would welcome anyone coming to discuss the real issues, the real facts," Rahsmia Zatar, executive director of STRONG Youth, a Long Island nonprofit that works in gang violence prevention and intervention, said in a phone call on Tuesday. "But [Trump's] messaging has no basis."
Zatar, who was born and raised on Long Island, works with STRONG Youth to help provide alternative paths for young people who are vulnerable to gang recruitment and to help provide intervention services for young people already involved in the criminal justice system.
To her, one of the issues she has concerns about is Trump's past habit of conflating undocumented immigrants with gang violence. MS-13, or Mara Salvatrucha, is a Salvadoran street gang that is "notorious for its violence and brutality" both in the United States and in Central America, as the New Yorker reported in May.
In recent years the gang been "notably active" in Long Island's Suffolk County. MS-13 is a decades-old gang that began among Salvadoran immigrants in Los Angeles in the 1980s, the Atlantic reported in June. But it has since spread to the U.S.' East Coast. Members recruit young people of Central American heritage, according to the Atlantic, targeting New York's sizable Salvadoran population.
MS-13 is, as both law enforcement agencies and activists like Zatar acknowledge, a real issue. Newsday reports that local authorities believe MS-13 is responsible for 11 killings in the past year alone.
In past appearances, Trump has spoken about gang violence and immigration in one breath — a habit that Zatar fears could help to exacerbate the factors that make young people vulnerable to gang recruitment in the first place.
At a rally in Ceder Rapids, Iowa, in June, Trump spoke about the MS-13 gang, saying, "These are true animals. We are moving them out of the country by the thousands, by the thousands. We're getting them out, MS-13."
Speaking to Time magazine for his person-of-the-year interview in 2016, Trump said of the MS-13 gang, "They come from Central America ... They're tougher than any people you've ever met. They're killing and raping everybody out there. They're illegal."
More recently, at a recent rally in Youngstown, Ohio on Tuesday, Trump again seemed to characterize undocumented immigrants as violent criminals, referring to "predators and criminal aliens" as "animals."
"They don't want to use guns, because it's too fast and it's not painful enough. So they'll take a young, beautiful girl, 16, 15, and others and they slice them and dice them with a knife, because they want them to go through excruciating pain before they die. And these are the animals that we've been protecting for so long. Well, they're not being protected any longer, folks."
According to Zatar, Trump's claims that undocumented immigration is driving gang violence is harmful — and misguided. "What causes young people to get involved in gang violence are systemic issues," she said, like lack of jobs, lack of quality education and marginalization of immigrant communities.
"His idea, and his rhetoric, are totally off-base and they really are only hurting and making the situation worse," Zatar said. Her fear is that Trump's speeches about ramping up deportation make immigrant families more fearful of authorities, "including groups such as mine that are trying to address the root issues," she said.
And Trump's "us vs. them" rhetoric, Zatar fears, only increases the isolation that young immigrants already feel, making them more susceptible to recruitment from gangs.
"Then he's talking about immigrant youth, and then talking about MS-13, he's lumping them all together," Zatar said.
Zatar is not the only one with concerns that Trump's rhetoric about MS-13 and immigrants could be hurting, not helping, the situation on Long Island.
In May, Timothy Sini, commissioner of the Suffolk County Police, told the New Yorker that increased fear of deportation and arrests had made the undocumented community more fearful about coming forward to report gang violence and assist local authorities.
"The undocumented community, on top of fearing MS-13, is fearful that if they interact with law enforcement they'll get deported, or a loved one will," Sini said.
According to Zatar, one of the issues that makes young people susceptible to recruitment by gangs like MS-13 is the feeling that they are unwanted or unwelcome in their communities.
"Many of our young kids are disconnected, they don't feel like their community cares about them," she said. "What we need is healing of that divide."
July 27, 2016 3:07 p.m.: This story has been updated.