Republicans are offering full-throated denouncements of Trump's military transgender ban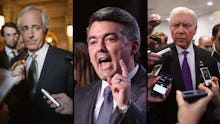 WASHINGTON — Hours after President Donald Trump's surprise announcement that transgender people will be banned from military service, no Republican senators have come to Trump's defense.
In the middle of a contentious health care debate Wednesday afternoon, Republicans mostly either declined to comment on the president's ban or expressed their disagreement with his decision. Only one senator interviewed by Mic was willing to defend the move.
"I don't think this is the time to have a social agenda conversation," Sen. David Perdue (R-Ga.) said. "I think [Trump] is well within his rights [to impose the ban]."
But Perdue's view appeared to be a lonely one among his own party.
"Anybody who wants to serve in the military should serve in the military," Sen. Cory Gardner (R-Colo.) said. "I don't agree with the president."
Sens. Thom Tillis (R-N.C) and Dan Sullivan (R-Alaska) echoed Gardner's sentiment. Tillis said he agreed with Sen. John McCain (R-Ariz.), the chairman of the armed services committee, who was held captive during the Vietnam War. McCain said any American fit for military service should be able to serve.
"My initial reaction is, if you can meet [the military's physical] standards, we shouldn't care who you are," Sullivan said. He added that he would like to hear from top U.S. generals as to why such a ban would be needed.
Sens. Lindsay Graham (R-S.C.) and Jeff Flake (R-Ariz.) agreed that the Pentagon needed to be consulted before instituting a ban.
Sen. Bob Corker (R-Tenn.), who chairs the foreign relations committee, chose a response senators on Capitol Hill have grown used to spouting: "I don't respond to tweets. We'll see what happens."
Sen. Orrin Hatch (R-Utah) took a categorical stance against the ban: "I don't think we should be prejudiced against anybody," he said.
Democrats also blasted the ban.
"When my Black Hawk helicopter was shot down, I didn't care about the gender identity of the soldiers who were risking their lives to save me," Sen. Tammy Duckworth (D-Ill.), who lost her leg as a helicopter pilot fighting in the Iraq war, said in a statement.